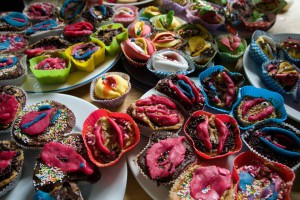 Friday December 19th 2014: Vulva cupcake workshop, 18:30
Vulva cupcake workshop! Why? Cause we need more spaces and ways in which we can explore body parts and have fun meanile! Plus, cupcakes are awesome!
So let's decorate some vulvas (ehm..vulva cupcakes actually). And then we eat them! This will be done in a body positive, no-shaming, diversity embracing, trans and intersex inclusionary, extremely colorful way.
Vegan cupcakes and decoration stuff will be provided, but feel free to bring some, if you have a particular idea in mind. If you have questions, send an email to joeworkshops [at] squat [dot] net.
Be on time, we only have 40 cupcakes!