Meer en meer mensen wonen alleen en hebben geen tijd of zin om te koken.Vaak wordt het dan een pizza uit de diepvries of een vette hap bij de snackbar, helemaal alleen 's avonds voor de tv. Maar koken en eten kan samen ook, veel gezelliger!
In een volkskeuken koken mensen op basis van vrijwilligheid en aan kostprijs voor elkaar om dan samen te eten. Op deze manier kunnen zowel de koks als de eters aan de isolatie ontsnappen en tegelijkertijd gezonder en goedkoper eten. Bovendien gaat liefde en begrip meestal door de maag, en is de volkskeuken dus een goede plek om om je buren te leren kennen en waarderen.
Heb je honger en zin in een revolutionair diner ?
Volkskeuken Vegazulu is iedere maandag en donderdag open om 19.00.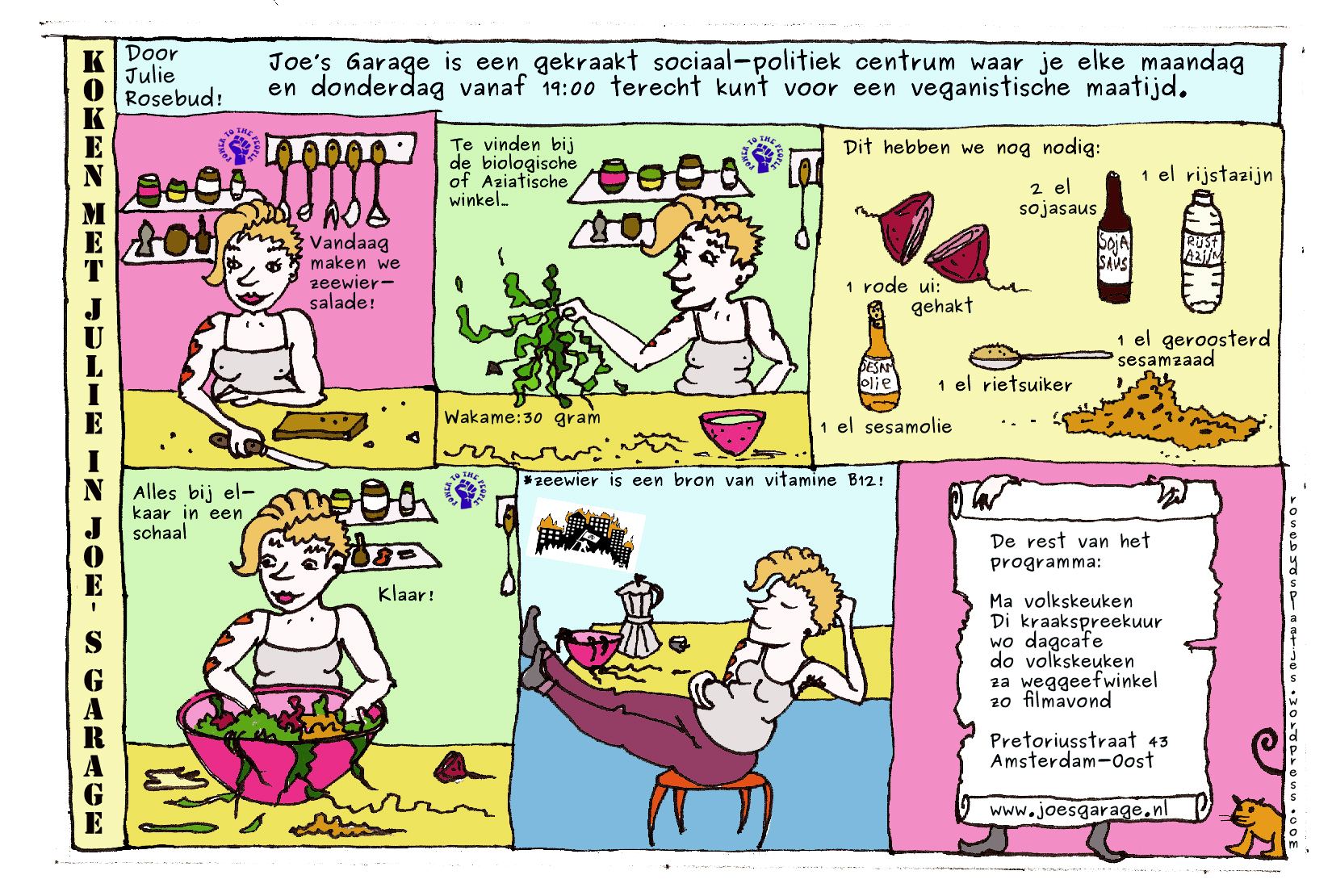 Er kan gegeten worden vanaf 19.00.
Je hoeft niet te reserveren !
Veganistisch? Lokaal? Seizoensgebonden? Biologisch?   Recipes for a cooler planet
We willen zoveel mogelijk gebruik maken van produkten uit de streek, zodat overbodig transport vermeden wordt. De afstand tussen producent en consument is best zo kort mogelijk. We werken het liefst met biologische producten en we vermijden overbodig verpakte grondstoffen of voedsel van grote, multinationale ondernemingen die het niet nauw nemen met arbeidsomstandigheden.
Denk ook aan recyclage van voedsel. Er wordt zoveel weggesmeten in onze maatschappij waar vele mensen mee gevoed kunnen worden zodat we doorheen de tijd ook bronnen hebben gezocht om voedsel te recupereren.  Seizoensgroenten / vergeten groenten. Wie eet er bijvoorbeeld wel eens topinamboer, ramenasse of 'keukenmeidenverdriet' ? Dankzij verwarmde kassen, gentech, kunstmest, goedkoop transport en allerlei kunstmatige ingrepen, kunnen wij het hele jaar door nagenoeg alle soorten groenten en fruit eten. Het wachten op de eerste echte smaakvolle aarbei, of het verlangen ernaar, is de helft van de lol. Waarom zou altijd alles verkrijgbaar moeten zijn?
Helaas, zelfs als we stoppen met vlees eten en overschakelen op lokale biologische seizoensgroenten zijn de problemen ver van opgelost. Wil je iets doen los van het consumenten gebeuren, bedenk dan welke acties je kan ondernemen.