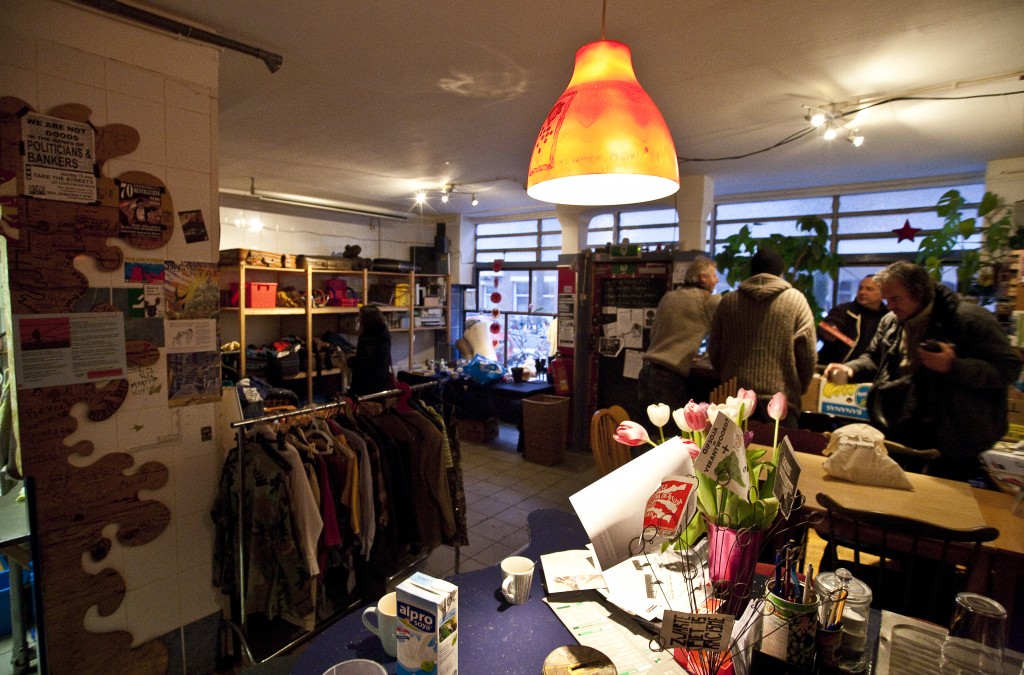 Om frustraties over vervelend werk en de daardoor verloren tijd te compenseren, blijven mensen maar onzinnige en waardeloze spullen kopen en worden er toch niet gelukkig van In de tussentijd groeien de afvalbergen en raken lucht en water vervuild.Bovendien word het gros van onze consumptiegoederen in arme landen gemaakt, waar mensen voor lonen moeten werken waar ze nauwelijks van kunnen eten.Tijd voor een betere aanpak.
Een manier om ons en onze arbeidskracht aan deze vicieuze cirkel te onttrekken is juist minder te consumeren en dingen her te gebruiken. Omdat de mooiste dingen vaak bij de vuilnis belanden of op een zolder staan te verstoffen, is er een plek nodig om deze overvloed alsnog beschikbaar te maken. En omdat de echte waarde van de dingen vaak door hun prijs (of ruilwaarde) verduisterd wordt, is de beste methode ze gewoon weg te geven.
Een weggeefwinkel is dus een plek waar niets te koop en alles gratis is. Een weggeefwinkel is geen vuilnisstort, maar een plek waar je in kunt leveren wat te goed is om weg te gooien en waar je kan meenemen wat jij nodig hebt. In een weggeefwinkel is er altijd genoeg voor ieders behoefte, maar te weinig voor ieders gretigheid.
Heb je nog iets moois of nuttigs over, of heb je nog iets nodig?
Kom mee, geef een hand, er is zoveel te doen met een weggeefwinkel.
Openingstijden / opening times : https://squ.at/r/15

– zaterdag, van 14.00 tot 18.00 / saturday, from 14:00 till 18:00
(Sinds 2021, de weggeefwinkel is buiten, voor de deur / Since 2021, the give away shop is happening outside, in front of the door)
In order to compensate frustrations about tedious work, waste of time, people keep buying worthless things and are not happy about it. In the meantime, mountains of waste are growing, air and water are becoming polluted. Moreover, most of our consumer goods are made in poor countries, where people have to work for wages that they can barely eat. Time for a better approach.
One way to get us and our workforce out of this vicious circle is to consume less and re-use things. Because the most beautiful things often end up in the garbage or in the attic, a place is needed to make this abundance available. And because the real value of things is often obscured by their price (or exchange value), the best method is to simply give them away.
So a give away shop is a place where nothing is for sale and everything is free. A give away shop is not a garbage dump, but a place where you can drop off what is too good to throw away and take what you need with you. In a give away shop there is always enough for everyone's needs, but not enough for everyone's eagerness.
Do you still have something beautiful or useful left, or do you need something else?
Come along, give a hand, there is so much to do with a give away shop.