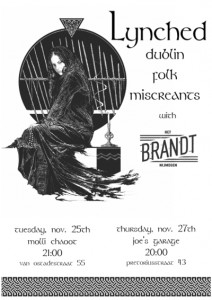 Thursday November 27th 2014, Concert with Lynched and Het Brandt. Volkseten Vegazulu, 7pm. Food is being served from 7pm. Directly after the people's kitchen, around 8pm, bands will perform. Live music will be over by 10pm.
Lynched, Dublin Folk Miscreants, is touring social centers around the Netherlands. 2 shows in Amsterdam with Het Brandt from Nijmegen. At the Molli, on Tuesday November 25th.
Lynched are a four-piece traditional folk group from Dublin, Ireland, who combine distinctive four-part vocal harmonies with arrangements of uilleann pipes, concertina, Russian accordion, fiddle and guitar. Their repertoire spans humorous Dublin music-hall ditties and street-songs, classic ballads from the Traveller tradition, traditional Irish and American dance tunes, and their own original material. Formed as an experimental-psychedelic-folk-punk-duo by brothers Ian and Daragh Lynch in the early 2,000's, the group has gone through various incarnations and taken part in a number of musical projects.
Volkseten Vegazulu is a people's kitchen, every monday and thursday, 19:00 PM, vegan food for 4€ or donation. All benefits go for social & political struggles. No reservation.
We're always looking for cooks. Any help is welcome in the kitchen. Experience not required. Enjoying it is a must. If you want to know which days are still available in the schedule, send an email to joe [at] squat [dot] net and book yourself the night. You can, of course, also participate by rolling up your sleeves and doing the dishes.