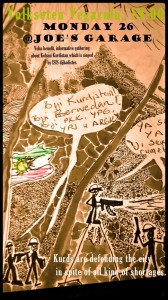 Monday January 26th 2015, Benefit voku for Kobani II, Volkseten Vegazulu, 7pm
Dear friends, on Monday 26th of January, voku benefit, informative gathering about Kobani. As many of you may know, Kobani (in Syrian Kurdistan) is sieged by ISIS dijhadistes but the Kurds are defending the city in spite of all kind of shortages. The main population of Kobani left the city and is now living in the neighboring countries of Turkey, Lebanon and Iraq. Circumstances in which these people are living are urgent and the winter makes in worse. Come along to have some food and information.
Volkseten Vegazulu is a people's kitchen, every monday and thursday, 19:00 PM, vegan food for 4€ or donation. All benefits go for social & political struggles. No reservation.
We're always looking for cooks. Any help is welcome in the kitchen. Experience not required. Enjoying it is a must. If you want to know which days are still available in the schedule, send an email to joe[at]squat.net and book yourself the night. You can, of course, also participate by rolling up your sleeves and doing the dishes.
Volkseten Vegazulu https://joesgarage.nl/volkseten-vegazulu