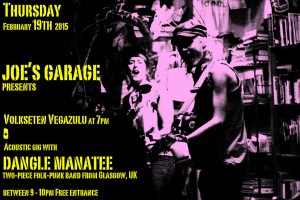 Thursday February 19th 2015: Voku & acoustic gig with Dangle Manatee (folf-punk from Glasgow, UK). Volkseten Vegazulu, 7pm. Gig from 9 till 10pm.
Dangle Manatee are Pippa and Hugh, two far-fetched human beings who live in Glasgow, Scotland and enjoy making music and other sounds. They are fairly certain that absolutely everything is absurd. They like to throw apples for cattle.
Dangle Manatee are heading out on a short tour of Germany, Netherlands, and Belgium. They will be in Amsterdam, on Feb. 18th at the ADM and on Feb. 19th at Joe's Garage where they already performed during a Singer Songwriters session in August 2013. Check them out: http://danglemanatee.bandcamp.com/
Volkseten Vegazulu is a people's kitchen, every monday and thursday, 7pm, vegan food for 4€ or donation. All benefits go for social & political struggles. No reservation.
We're always looking for cooks. Any help is welcome in the kitchen. Experience not required. Enjoying it is a must. If you want to know which days are still available in the schedule, send an email to joe[at]squat.net and book yourself the night. You can, of course, also participate by rolling up your sleeves and doing the dishes.