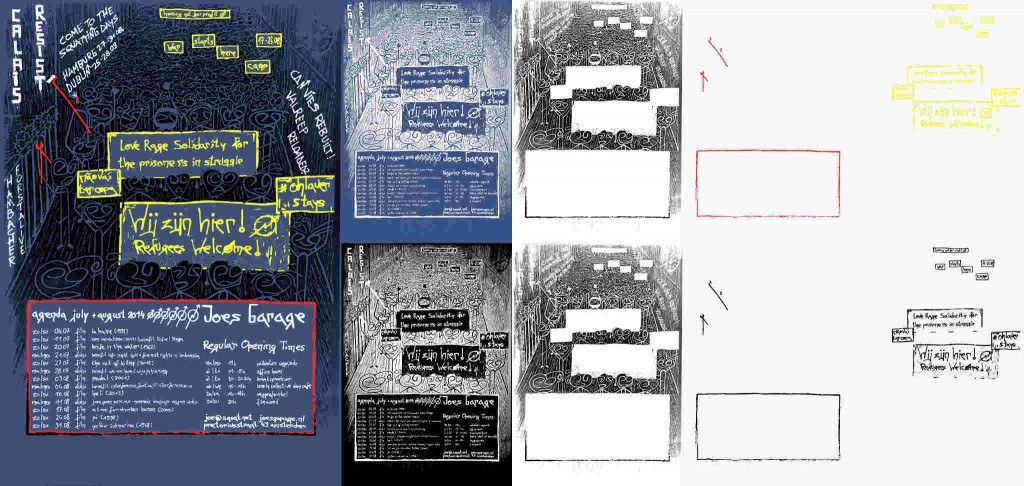 Friday March 13th 2015, Workshop: How to make a screen print poster for Joe's. From 18:30 til 21:00
This workshop is about hands on poster making with GIMP for multi-color screen printing, just as Joe's monthly posters are done. We will (briefly) discuss how to make a poster design with screen printing in mind, or how to convert an existing design for screen printing purposes.
The main focus will be put on the steps to be performed in GIMP, a free software graphic editor available for all major operating systems, in order to produce proper files and designs to be used for screen printing.
The final result can then be send to your local screen print collective for large series of copies but could also be used as blueprint for d.i.y. silc screens.
An example of one of Joe's posters splitted into different layers/stencils by color: each of the 4 black/white stencils on the lower row is printed one over another. the black portions of each layer are assigned to a specific color by the printer and so finally produce a 5 color poster (black, white, blue, red, yellow) as it can be seen on the left.
# We will use GIMP as graphical tool (http://www.gimp.org). If you use window$, check out the portable version of GIMP (http://portableapps.com/apps/graphics_pictures/gimp_portable)
# No further knowledge of GIMP necessary
# We have a beamer for visualisation
# There are 2 desktop computers available in Joe's, but better bring your own (laptop) if possible, with GIMP already installed, so that we do not need to spend time installing software.
# If you already have some designs ready, bring them along