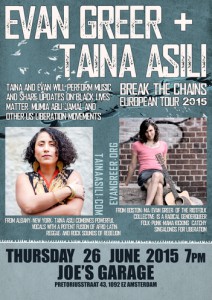 Thursday June 25th 2014, Singer songwriters: Taina Asili & Evan Greer, music for social change, Break the Chains European tour. Door opens at 7pm. Concert at 8:30pm, after the people's kitchen.
Evan Greer one of the founder of the Riot-Folk Collective and Taina Asili, from Boston and New York, will be performing at Joe's Garage as a part of their Break the Chains European Tour. Evan Greer is a radical genderqueer singer/songwriter from the Riot-Folk collective, based in Boston, MA, performing high-energy acoustic songs that inspire hope, build community, and incite resistance. Taína Asili is a US born Puerto Rican singer, combining powerful vocals with energetic fusion of Afro-Latin, reggae, and rock sounds of rebellion. Evan and Taina are very active in movements of resistance in the US, and in addition to sharing their music, will be sharing updates on the community organizing work they are involved in, especially as it relates to prisoner justice, Black Lives Matter and the movement to free Mumia Abu-Jamal and other US political prisoners.
More infos at: http://evangreer.org/ and http://tainaasili.com/
Volkseten Vegazulu is a people's kitchen, every monday and thursday, 19:00 PM, vegan food for 4€ or donation. All benefits go for social & political struggles. No reservation.
We're always looking for cooks. Any help is welcome in the kitchen. Experience not required. Enjoying it is a must. If you want to know which days are still available in the schedule, send an email to joe[at]squat.net and book yourself the night. You can, of course, also participate by rolling up your sleeves and doing the dishes.