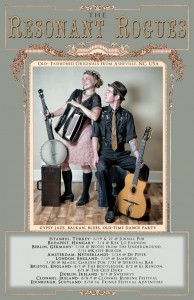 Monday July 27th 2015: Acoustic gig with The Resonant Rogues (Asheville, NC).  Volkseten Vegazulu, 7pm. Concert from 9 till 10pm.
The Resonant Rogues, hailing from Asheville, NC, have ears for the past and eyes toward the future. Partners Sparrow and Keith J. Smith write songs that transcend genres, blending Gypsy jazz and Balkan music with American folk traditions like old-time and blues.  Their infectious melodies and eloquent lyrics bring a nouveau pop sensibility to their old fashioned style.  2015 promises to be a big year for the young group, with the release of their new all-original album and tours that span the US and Europe.
This is your last chance to see them in Amsterdam this summer after playing various squats and social centers around the city. http://theresonantrogues.com/
Volkseten Vegazulu is a people's kitchen, every monday and thursday, 7pm, vegan food for 4€ or donation. All benefits go for social & political struggles. No reservation.
We're always looking for cooks. Any help is welcome in the kitchen. Experience not required. Enjoying it is a must. If you want to know which days are still available in the schedule, send an email to joe [at] squat [dot] net and book yourself the night. You can, of course, also participate by rolling up your sleeves and doing the dishes.