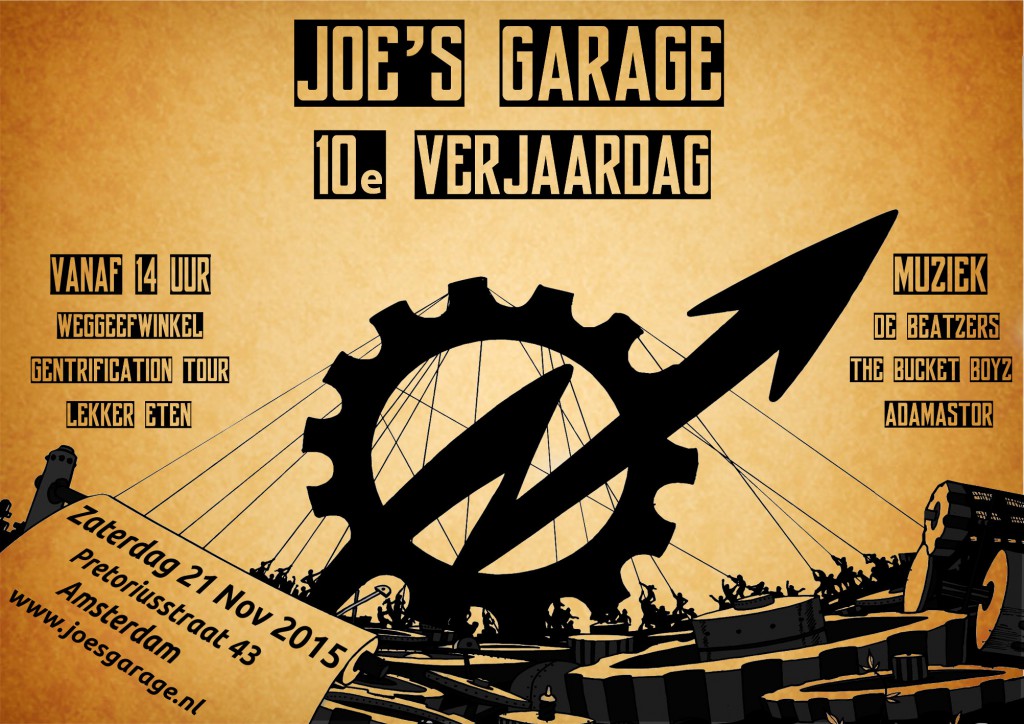 Al 10 jaar lang organiseert Joe's Garage politieke acties, film- en debatavonden, discussies en demonstraties.Iedereen is hier welkom; of het nou voor advies bij precaire woon-, werk- en andere levensvragen is of voor een kop soep, een goed gesprek, een mooi concert of een gratis regenjas uit de weggeefwinkel.
Zoals bekend is er een schrijnend woningtekort in Amsterdam. Dat ligt, volgens ons, over het algemeen niet aan een tekort aan daadwerkelijke panden maar aan tekortkomingen van het woonbeleid, machtsstrijd in de politiek en hebzucht in deze kapitalistische hoofdstad. Geen van de 50 tinten van het kabinet heeft dit urgente probleem ooit echt kunnen aanpakken.
Daarom kraken wij woningen. In holle beloften, mooie woorden en symboolpolitiek kun je immers niet wonen.
Joe's Garage is dan ook een kraakpand maar veel meer dan dat. Joe's Garage is een autonoom, politiek, sociaal en cultureel centrum; 100% gerund door vrijwilligers en zonder subsidie. Joe's Garage laat zien wat er mogelijk is als mensen samen werken, delen, ideeën uitwisselen en solidair zijn met elkaar. Al 10 jaar lang.
We hebben, samen met velen van u, de buurt de afgelopen 10 jaar flink zien veranderen. Van een echte volksbuurt met vele kraakpanden, sociale huurwoningen en Turkse groentewinkels tot een chique stadswijk met heel veel koopwoningen en hippe koffietentjes.
Die verandering heeft velen niet onberoerd gelaten. Sommigen zullen blij zijn met de keurig opgeknapte woningen, anderen missen de tijd dat je voor een euro nog ergens koffie kon drinken. Het gesprek daarover tussen alle verschillende mensen in de buurt is belangrijk en vinden wij interessant om te voeren
Vandaag vieren wij de strijdvaardigheid, de solidariteit en de vrijheid die wij 10 jaar geleden namen en nog steeds elke dag koesteren. Hasta la Victoria Siempre! Uberhaupt und Jetzt! Love and Rage! En meer van dattum…..
Zaterdag 21 november 2015:
14.00, weggeefwinkel en meer
15.00, gentrificatie tour
18.00, voku
19.00, bands: Beatzers (ska folk from the Amsterdam swamp), The Bucket Boyz (blue trash from the Amsterdam swamp), Adamastor (up-tempo Portuguese gypsy punk).