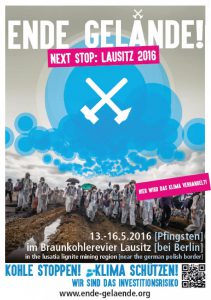 Thursday march 31st 2016, Benefit mobilisation Ende Gelände, Lausatia May 2016, Volkseten Vegazulu, 7pm.
Join a vegan dinner and Ende Gelände info night at the Joe's Garage!
Germany's lignite –or browncoal- mines and coal plants are Europe's biggest source of CO2 emissions and home to the world's largest coal diggers. These mines are disastrous for the local communities and environment, and are a climate killer! And they are showing no signs of closing any time soon…
That is why in August 2015, 1500 people occupied the Garzweiler lignite mine in the Rhineland, Germany. This clearly showed that people are fed up and are willing to take action in their own hands if politicians are failing to ensure a safe future.
This year we will go further. In May , 'Break Free from Fossil Fuels' is being organized by a wide range of international, national and local organizations. Worldwide mass civil disobedience actions will take place to stop fossil fuel infrastructures. And Ende Gelände will be back, this time targeting the lignite mines in Lausitz (near Leipzig). Vatenvall, one of the largest energy corporations within Germany, has put their lignite mine for sale to the highest bidder, but they should be shutting it down. Thousands of concerned people will enter the mine to send a strong signal to the potential buyer. Corporations will have to see that putting their money over our climate and our lives will meet resistance. Also a legal demonstration will take place.
Organisation, grassroot movements and individuals from the Netherlands are joining forces to facilitate different busses towards Ende Gelände.
Feel free to come by the Joe's for a lovely meal and all the ins and outs of Ende Gelände.
See you there! https://www.ende-gelaende.org/
Volkseten Vegazulu is a people's kitchen, every monday, 7pm, vegan food for 4€ or donation. All benefits go for social & political struggles. No reservation. From September, the people's kitchen is also open on thursday.

We're always looking for cooks. Any help is welcome in the kitchen. Experience not required. Enjoying it is a must. If you want to know which days are still available in the schedule, send an email to joe [at] squat [dot] net and book yourself the night. You can, of course, also participate by rolling up your sleeves and doing the dishes.