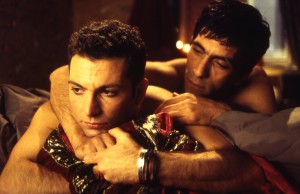 Wed 24.10.2007 – Lola and Bilidikid (1999), Dir: E.Kutlug Ataman. Turkish / German with English Sub.
17-year old Murat from Turkey, living in Berlin, Germany, slowly discovers his homosexuality. His older brother Osman, head of the family since the father's death, wants him to finally lose his virginity (in a heterosexual manner) and thus causes Murat to run away. In a bar, Murat meets Lola, who has some things to tell about him. He also meets Bilidikid, Lolas man, who thinks that Murat might have thrown an eye on Lola. But the truth about Lola, Murat and his family is far worse that anyone could have expected.
—-
Provoking documentaries, movies off the beaten mainstream path and other material you probably wont be able to see outside of film festivals and similar special events… Please note: This is not a bar evening or kitchen evening. If you want to eat or drink, please come on the days assigned to those activities. There's no food, and drinks can be ordered before and after the film only.