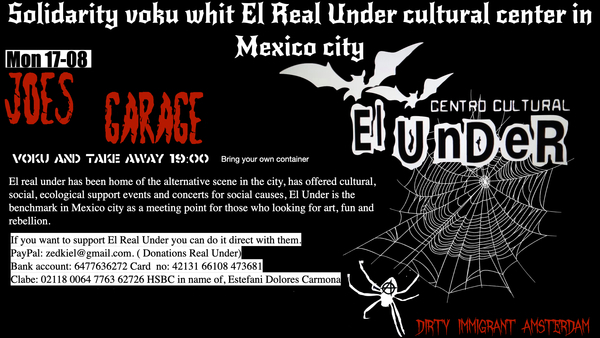 Monday August 17th 2020, Solidarity voku for El Real Under cultural center in Mexico city, from 7pm till 9pm. No reservation.
Voku and take away. Bring your own container. El real under has been home of the alternative scene in Mexico city, has offered cultural, social, ecological support events and concerts for social causes, El Under is the benchmark in Mexico city as a meeting point for those who looking for art, fun and rebellion. If you want to support El Real Under you can do it direct with them.
PayPal: zedkiel [at] gmail [dot] com. ( Donations Real Under)
Bank account: 6477636272 Card no: 42131 66108 473681
Clabe: 02118 0064 7763 62726 HSBC in name of, Estefani Dolores Carmona
http://theunder.org/
Volkseten Vegazulu is a people's kitchens existing since the very beginning of Joe's Garage, June 2005. All benefits go to social & political struggles. Joe's Garage is a space run by volunteers. Without a collective effort, without your active participation, we're remaining closed. Get in touch in you feel like giving a hand. We're always looking for cooks. Any help is welcome in the kitchen. Experience not required. If you want to know which days are still available, mail us.