Friday February 10th 2023, Aman molli: Vocal Workshop with Vanessa Kourtesi & Special Concert with Vanessa Kourtesi (vocals) and Asteris Varveris (laouto, vocals). The workshop will start at 7pm and last until 9pm. After a short break, concert. Donations welcome.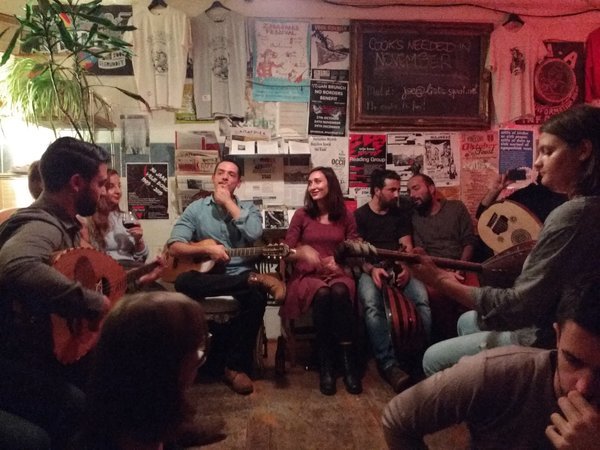 Workshop: In this short course, we will explore the dynamics of singing using performance techniques. Through group exercises and playful techniques, we will discover ways to relax and refocus our singing practice. Using the valuable benefits of group working, we will have the chance to experience group reflection and singing and explore voice in relation to our body as well. The workshop also includes vocal exercises, vocal group practice and technical and performance guidance. Each participant is asked to bring a short singing piece (one verse or one chorus would be enough) to practice and to play with through the workshop.
Aman Molli is an open collective workshop for modal music, broadly defined as music following melodic pathways that are outside the two standardized Western scales and associated harmonies. Instruments and Music Styles Any kind of acoustic instrument (Strings, percussions, wind, voice). Many of the instruments used today (guitars, bouzoukia etc.) have even-tempered tuning so the maqams/dromoi are not the traditional Arabic/Turkish/Persian microtonal versions but the westernized adaptations. One of the objectives is to explore the differences. In the same spirit, we add harmonic structure (in guitars or mpaglama chords etc) where possible.On the rhythm side we explore the various characteristics rhythms of these regions/musical tradition (9/8 etc.).