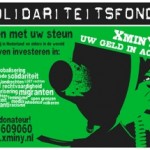 Do./Th. 2 feb. 2012 X-Y benefiet, Volkseten Vegazulu, 19:00, no reservation, donations welcome.
XminusY Solidarity Fund [https://www.xminy.nl/] is an independent fund that has been supporting groups and organisations all over the world for almost 40 years.
Nowadays there is a huge amount of funds, but XminusY clearly stands out from other funds and organisations in the Netherlands in several important ways. First of all, they are in a position to maintain a critical and independent course. Many Dutch funds and aid organisations, mainly depend on government or EU funding. Which means they have to justify their methods and actions to the self-same authorities in order to keep their subsidies. XminusY is totally independent from any government funding, and therefore completely free to make its own choices.
Volkseten Vegazulu is every monday and thursday, vegan food for 4€ or donation. All benefits go for social & political struggles. No reservation