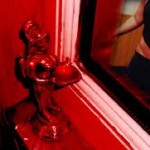 Th./Do. 31 mei 2012, 19:00, Voices of Women Media Benefit [http://voicesofwomenmedia.org/].
Voices of Women Media is an emerging organization that aims to provide a way for marginalized communities of women to educate and express themselves through different forms of media.
VOW Media believes that personalizing women's individual experiences in the long run can have a long lasting effect on women's rights worldwide. VOW Media aims to contribute to the advancement of women in society by giving these women the means to take media in their own hands. Through using media and skill training, we want to further their abilities to empower themselves and let their own voices be heard.
Screening of the "Day in her life 2," a video project by and about women and transwomen involved in the sex industry in Amsterdam.
Volkseten Vegazulu is every monday and thursday, vegan food for 4€ or donation. All benefits go for social & political struggles. No reservation