Joe's Garage needs you too. You want to cook for a voku, participate in the give away shop, play a film or help us somehow, let us know. On Sunday, you might get a film or an info-night. Check our Agenda page for the very last update. Note that Sunday events are starting at 21pm!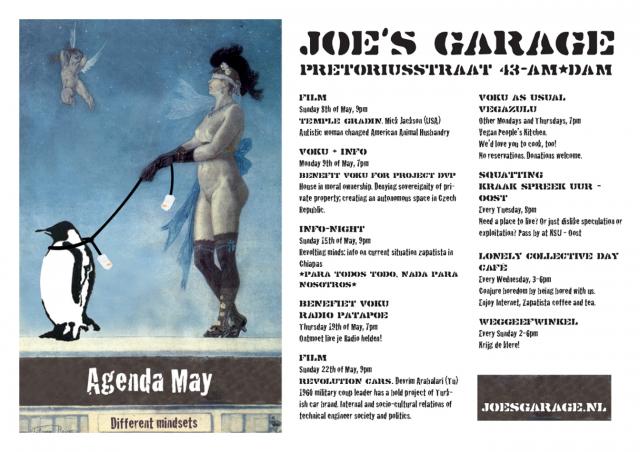 Zo. 08 Mei Filmavond, 21uur, Temple Grandin (Mick Jackson, USA, 2010) Autistic women changed American Animal Husbandry
Ma. 09 Mei: Benefit Voku for project DVP 19uur, vegan food, no reservations, donations welcome. Benefit + Info for project DVP House in moral ownership. Denying sovereignity of private property; creating an autonomous space in Czech Republic. http://dvp.s.cz/
Zo. 15 Mei, 21uur, Revolting Minds: Infonight on current situation Zapatista in Chiapas with film fragments. Land evictions in relation to REDD.
Do. 19 Mei: Benefiet Voku Radio Patapoe 19uur, vegan food, no reservations, donations welcome. Vegan Fundraising dinner for Radio Patapoe. Onmoet Live je radiohelden! http://freeteam.nl/patapoe/
Zo. 22 Mei Filmavond, 21uur, Revolution Cars (Devrim Arabalari, Turkey, 2008, 115′). 1960 military coup leader has a bold project of Turkish car brand. Internal and socio-cultural relations of technical engineer society and politics.
Joe's Garage is open 6 days a week:
Ma/Mo: 19.00 Volkseten Vegazulu, vegan food, no reservations, donations welcome
Di/Tu: 20.00 – 21.30 Kraakspreekuur
Wo/We: 15.00 – 18.00 Lonely Collective Day Cafe
Do/Th: 19.00 Volkseten Vegazulu, vegan food, no reservations, donations welcome
Za/Sa: 14.00 – 18.00 Weggeefwinkel
Zo/Su: 21.00 Filmavond/Infoavond