Sunday July 22nd 2012, Movie night with The Tin Drum.
21:00  The Tin Drum (1979) / Doors open at 20:00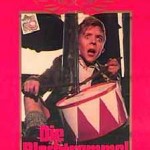 21:00 – The Tin Drum (1979, 142′). Danzig in the 1920s/1930s. Oskar Matzerath, son of a local dealer, is a most unusual boy. Equipped with full intellect right from his birth he decides at his third birthday not to grow up as he sees the crazy world around him at the eve of World War II.
The Tin Drum (German: Die Blechtrommel) is a 1979 film adaptation of the novel of the same name by Günter Grass. It was directed and co-written by Volker Schlöndorff. Stylistically it is a black comedy. The film won the Palme d'Or at the 1979 Cannes Film Festival and the 1979 Academy Award for Best Foreign Language Film.
Door is open at 20:00! You are welcome! Film night at Joe's Garage, nice and cozy cinema! Free entrance. You want to play a movie, let us know: joe [at] squat [dot] net