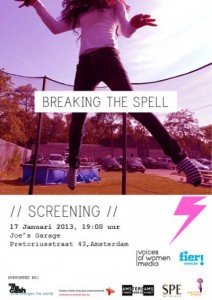 Th./Do. January 17th 2013: Volkseten Vegazulu, Voices of Women Media Benefit, 19:00 pm.
Voices of Women Media is an emerging organization that aims to provide a way for marginalized communities of women to educate and express themselves through different forms of media.
VOW Media believes that personalizing women's individual experiences in the long run can have a long lasting effect on women's rights worldwide. VOW Media aims to contribute to the advancement of women in society by giving these women the means to take media in their own hands. Through using media and skill training, we want to further their abilities to empower themselves and let their own voices be heard.
We have just completed our sixth project, "Breaking the Spell". "Breaking the Spell" offers a glimpse into the lives of young girls who have been victimized by – or are at the risk of falling victim to "loverboys" (pimps), as well as girls who have gone through severe traumatic experiences, such as repeated emotional, physical and/or sexual abuse.
Come by for a screening, showing the videos the girls made themselves, a Q&A session, amazing vegan food and a chat!
For more info about all our projects, check http://voicesofwomenmedia.org/
Volkseten Vegazulu is a people's kitchen, every Monday and Thursday, 19:00 PM, vegan food for 4€ or donation. All benefits go for social & political struggles. No reservation.