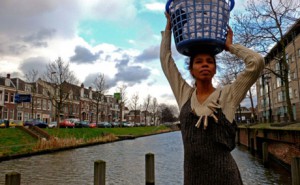 Monday October 14th 2013, Voices of Women Media Benefit, Volkseten Vegazulu, 7pm
Time for a new Voices of Women Media evening! We are a women's organization that works with different communities of girls and women to encourage the understanding and making of media.
We are in the process of raising funds for our latest project. The project, called 'Displaced,' aims at providing young first or second-generation migrant women living in the Netherlands, Romania, Greece and Spain with video and photography tools to allow them to create and tell their own stories, as well as control their own images of representation.
We want to provide a safe and creative space for young migrant women to celebrate their identity and belonging and share them with the world using multimedia. Join us on Monday for a screening of selected videos done by our former participants – all migrant stories told my migrants themselves. And, of course, for a discussion. Vegan dinner will be served at 19:00, as usual.
Volkseten Vegazulu is a people's kitchen, every monday and thursday, 19:00 PM, vegan food for 4€ or donation. All benefits go for social & political struggles. No reservation.
We're always looking for cooks. Any help is welcome in the kitchen. Experience not required. Enjoying it is a must. If you want to know which days are still available in the schedule, send an email to joe[at]squat.net and book yourself the night. You can, of course, also participate by rolling up your sleeves and doing the dishes.