Sunday September 14th 2014, Movie night: I love hooligans, an animated short film by Jan-Dirk Bouw (2013, 12min, dutch with english subtitles) and Idiots and Angels, an animated feature film by (2008, 78min, no spoken language). Door opens at 8pm, film begins at 9pm.
I Love Hooligans
In "I Love Hooligans" we enter the world of a homosexual hooligan who feels unconditional love for his club. However, being gay, this hooligan has to hide his identity in order to survive in this world that is so precious to him. Football is what he lives for, and his sexual orientation and love life have been relegated to the margin. It is a well-kept secret.
Update Fr. 12.09.2014: There might be the chance (not yet 100% confirmed) that Jan-Dirk Bouw is joining us for questions and answers about I Love Hooligans. Really great!
Idiots and Angles
Plympton on what inspired the idea for "Idiots and Angles"…
The core idea of "Idiots and Angels" came to me while I was in France and someone asked me, after seeing "Hair High," what my next project would be. Off the top of my head, I don't know where it came from – I blurted out "An asshole guy wakes up one morning with wings on his back, and he doesn't like it because the wings make him do good things."
The kid who asked the question thought that was an excellent idea for a film, and after I thought about it, so did I.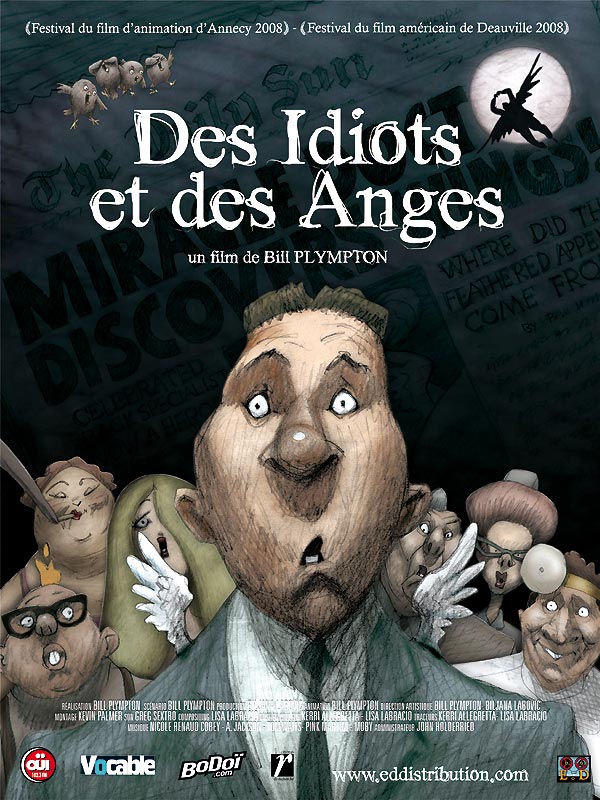 Film night at Joe's Garage, cozy cinema! Doors open at 8pm, film begins at 9pm, free entrance. You want to play a movie, let us know: joe [at] squat [dot] net