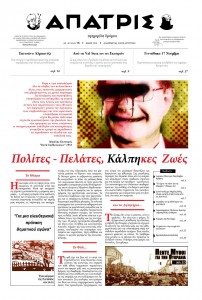 Monday January 5th 2015, Benefit for Apatris, Greek anarchist newspaper. Volkseten Vegazulu, 7pm
The street newspaper APATRIS began in 2009 from Heraklion (Crete) and for a year was distributed only locally. In 2010, comrades from other places in Crete began to collaborate with the project. Since then and for about 2.5 years APATRIS has been issued as a Pancreatan anarchist newspaper. The next issue will be published in the second week of October 2013 and it has a nationwide character, i.e. it is based on the collaboration of comrades throughout Greece.
The basic standpoint of the initial editorial team, according to the editorial of the first issue (March 2009), referred to the inability of existing information structures to be used as reliable means of news broadcasting and free expression and therefore any attempt with a reformist character would not be effective. As a means of counter-information, APATRIS may contribute to the co-production of an independent social discourse. As a result, the individual responsibility of each author is stressed. They claim that: "The purpose of this publication is not to shape a common line or agenda that suggests the soundest solution. Our aim is to hear opinions not necessarily in complete agreement with each other, views and events carefully buried by the mass media and altered under the weight of authoritarian interests, but also to perceive the developments around us in order to develop our texts and our actions".
APATRIS recently made a call for a meeting to all existing counter-information media in Greece. The meeting finally took place on June 29, 2013 in Heraklion, Crete. Different collectives active in counter-information took part (Athens Indymedia, Candia Alternativa, Radio Revolt, 98 fm, Espiv, APATRIS, etc). Similar initiatives had taken place in the past (Thessaloniki 2011, Athens) in reaction to the repression of various counter-information media. These past meetings highlighted the need for more structured, regular and nationwide series of meetings.
http://issuu.com/apatris_news/docs/apatris_26_web
Volkseten Vegazulu is a people's kitchen, every monday and thursday, 19:00 PM, vegan food for 4€ or donation. All benefits go for social & political struggles. No reservation.
We're always looking for cooks. Any help is welcome in the kitchen. Experience not required. Enjoying it is a must. If you want to know which days are still available in the schedule, send an email to joe[at]squat.net and book yourself the night. You can, of course, also participate by rolling up your sleeves and doing the dishes.
Volkseten Vegazulu https://joesgarage.nl/volkseten-vegazulu