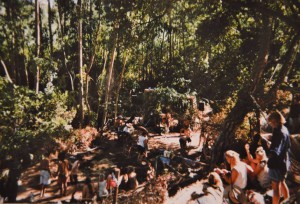 Thursday March 19th 2015, Benefit for Toca do Coelho, a self sustainable permaculture project in Portugal. Volkseten Vegazulu, 7pm.
Toca do Coelho [http://tocadocoelho.eu/] is the expression of a grassroots movement, dedicated to improve the world. We aim to make parts of this world into a better and more sustainable place, through cooperation with nature and people. Small scale, with persistence and endless possibilities.
Toca do Coelho stands for a space where people, plants and animals can live happily together. We believe in diversity and cooperation with the surroundings, instead of exploitation. Working with nature has all kinds of definitions: eco-agriculture, agroforestry, permaculture, restorative agriculture, biological dynamic farming… One way or another, it is about establishing a mutually beneficial relation, for us and for nature.
Small = beautiful, food = slow, animals = party and people = happy. The house will become a source of life and happiness, where people, flora and fauna not only live together but strengthen each other.
By now you might be curious how we are going to put our ideas into practice. We will start with extensive research on the area and the soil, followed by experiments and planned projects. Below you can find some of our plans that will sketch an image of our activities and permaculture.
To create a nutrient cycle for humans, plants and animals combined, we will:
* Attract as many plant and animal species as possible by realising a variety of habitats. Therefore, edges will arise, which account for increased biodiversity.
* Reuse human and natural wastes, in all its aspects, as plant nutrients.
* Optimize use of land area by growing in all possible directions (let beans grow with help of maize stems).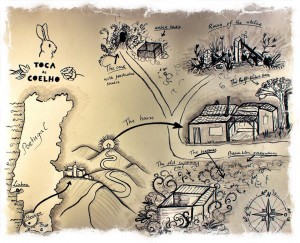 To create a water sustaining system, we will:
* Build ponds and swales that reduce erosion, store water and also create a new living space for plants and animals.
* A drip irrigation system that will lead water from the source/rainwater harvest bins to the garden, feeding the water into the soil through shallow pipes, minimizing evaporation.
* Install rainwater collectors on the roof of the house that will collect and can store the water that falls in the rain season.
* Fog/dew harvesting with a net on top of the hill; when the air cools down in the evening , it might be possible to harvest water that precipitates out of the air.
* Build helophyte(plant) filters that turn human wastewater into plant biomass.
* Create an ecto-organic layer, by mulching, that will store water and reduces evaporation.
* Groasis waterboxx. This system is designed to mimic the natural process of birds pooping out seeds, giving shelter and nutrients to the germinating seed. It consists of a dew harvester, a wick to lead the water into the ground and a cut-open bucket for a small tree to grow in.
* Porous capsule irrigation. This method feeds irrigation water into porous capsules buried in the ground (like clay pots). When the soil around the capsules is dry, it will draw water from the pots.
* Minimize human water use.
We will try to obtain energy out of:
* Compost that produces heat, because of the microorganisms.
* Food scrap composting that can create biogas.
At Toca do Coelho everyone is welcome to do whatever is in their capabilities to help build a vibrant healthy ecosystem.
Volkseten Vegazulu is a people's kitchen, every monday and thursday, 7pm, vegan food for 4€ or donation. All benefits go for social & political struggles. No reservation.
We're always looking for cooks. Any help is welcome in the kitchen. Experience not required. Enjoying it is a must. If you want to know which days are still available in the schedule, send an email to joe[at]squat.net and book yourself the night. You can, of course, also participate by rolling up your sleeves and doing the dishes.