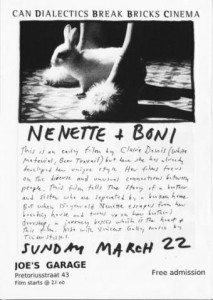 Sunday March 22nd 2015, Can Dialectics Break Bricks Cinema: Nenette and Boni (1996). Directed by Claire Denis, 99 minutes. In French with English subtitles Free admission. Door opens at 20:00, Film starts at 21:00.
This is an early film by French film director Claire Denis (Beau Travail, 35 Rhum, White Material), but she already has her obscure and "difficult to pin down style" well defined. She is also already working with her long-time collaborator Agnes Godard who brings us the striking cinematography in this film, along with British band Tindersticks, who do the soundtrack.
As usual with her cinema, Claire Denis has the gift of taking us into uncharted territory, especially concerning the diverse and unusual connections between people. Although its about relationships, Nenette and Boni isn't about sex or romance, however, but rather its about intimacy and bonding. It tells the story of a brother and sister who are the products of a broken home, who are torn apart. But when 15-year old Nenette escapes and turns up on her brothers doorstep, a journey begins which is the heart of this film.
In this movie director Denis' penchant for elliptical story lines is more fluid and less fragmentary and jarring than in her later works. Set within a harsh urban decor, this film nevertheless is able to combine unsentimentality and lyricism. It also features a cameo role by the controversial Vincent Gallo.
CAN DIALECTICS BREAK BRICKS CINEMA @ Joe's Garage
Pretoriusstraat 43
Film starts @ 21:00
Free admission
Film night at Joe's Garage, cozy cinema! Doors open at 8pm, film begins at 9pm, free entrance. You want to play a movie, let us know: joe [at] squat [dot] net