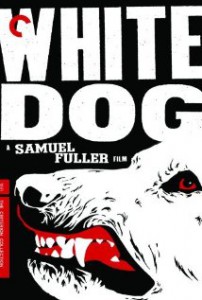 Sunday September 13th 2015, Can Dialectics Break Bricks Cinema: White Dog (1982). Directed by Samuel Fuller, 90 minutes, in English. High-definition screening. Free admission. Door opens at 20:00, Film starts at 21:00.
Back in the 80s this was a piece of cinematic dynamite. Just the premise of it sent shock waves through the film industry. Whats it about? It centers on a young girl who injures a stray dog, and takes it home to bring it back to health. Although its a beautiful dog, it does act strange at times. Soon she finds out that it is a "white dog"- a dog which has been programmed into attacking black people by a previous racist owner. That is the premise and the movie then goes into how to deal with the situation.
Adapted from a book by Romain Gary (to whom the picture is dedicated) and it based on a real life event that happened to his wife Jean Seberg. Originally Roman Polanski was signed up to direct it, but then he was forced to escape America after he was charged with a sex crime. So finally, six years later, it fell into the hands of the maverick director Samuel Fuller.
Once it was finished the studio felt it was too volatile and it was shelved (basically banned) so it wasn't allowed to be screened in America. Director Fuller was pissed off and moved to France and never made another movie in America. It splits audiences like crazy… is it a well-made film or not? Is it racist or anti-racist? Its a controversial film that stirs up a wild discussion in any event. The music score is by Ennio Morricone.
Film night at Joe's Garage, cozy cinema! Doors open at 8pm, film begins at 9pm, free entrance. You want to play a movie, let us know: joe [at] squat [dot] net