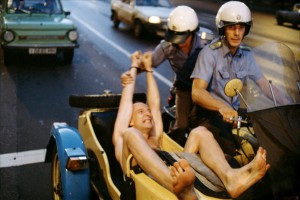 Sunday October 11th 2015, Can Dialectics Break Bricks Cinema: Taxi Blues (Такси-блюз) directed by Pavel Lungin, 1990, 110 minutes. High-definition screening. Free admission. Door opens at 20:00, Film starts at 21:00.
This film explores many aspects of modern Russian life by centering on the lives of two very different people, and what happens when their destinies intersect. Ivan is a tough hard-working Moscow taxi driver who is nostalgic about the days of Communism. One night he picks up Lyosha who belongs to the new generation of Russians… he is pessimistic, westernized, an alcoholic jazz saxophonist and totally irresponsible. Because of the turn of events, a long-term connection is formed between the two that is a bit like a bizarre love-hate relationship, and its fascinating to watch it twist and turn, develop and unfold, die down and explode.
The movie is wonderfully shot, both bleak and passionate… and beyond being only a story about two polar opposite men, it is also a moody piece of work about Russia during the latter stages of Perestroika… and the collision of old Russian values against the new Russia. The film stars Piotr Mamonov who is the leader of the new wave band Zvuki Moobut… but he is also a poet and performer. The lush but desolate free-jazz music score for this film is by Vladimir Cherkasin.
Taxi Blues is considered by many to be one of the central masterpieces of contemporary Russian cinema, and it won the Best Director award at the Cannes Film Festival in 1990. And, like usual, this is an extremely rare screening of this haunting movie.
Film night at Joe's Garage, cozy cinema! Doors open at 8pm, film begins at 9pm, free entrance. You want to play a movie, let us know: joe [at] squat [dot] net