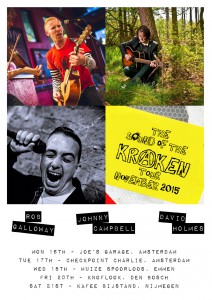 Monday November 16th 2015, Concert with Rob Galloway, Johnny Campbell and rebel poet David Holmes. Another convoy from UK stopping at Joe's Garage, bringing us the Leeds scene at its best. Volkseten Vegazulu, 7pm. Music from 8:30pm till 10pm!
Rob Galloway is the front man of the Punk Rock n Roll band The Yalla Yallas, with songs based upon two of the strongest emotions Love and Anger he will bring to you an energetic, anarchic, and honest show. He has spent the last twelve months touring Europe and playing DIY Festivals (Strummercamp, 0161 Festival, A Winter of Discontent) as well as major Festivals (Glastonbury) whilst recording his debut solo album due for release next year. http://www.theyallayallas.com
Johnny Campbell – A fast, ruthless, uncompromising sound which lends it's influences from far and wide. The material will embrace traditional music and sometimes frantic Bluegrass style picking with self penned songs of protest and debauchery. http://www.johnnycampbell.co.uk/
David Holmes – This rebel poet is no stranger to the road, although he is new to performing. David has previously worked as a roadie for acts such as Blaggers I.T.A., Dub War, and Manic Street Preachers. His poetry reflects some of his life experiences and social commentary. Some power words are heading your way, definitely antifascist and anarchist, together with the unheard voices, such as the poetry written down by a Soudanese refugee.