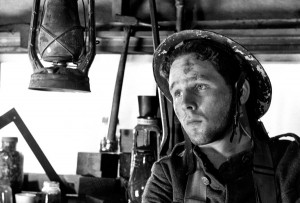 Sunday November 15th 2015, Can Dialectics Break Bricks Cinema: Johnny Got His Gun. Directed by Dalton Trumbo, 1971, 111 minutes. In English. High-definition screening. Free admission. Door opens at 20:00, Film starts at 21:00.
Yet another film that is threatened of being remade by Hollywood (that factory of uninspired dreams), taking this wonderful piece of committed art and castrating it into a typical, tired,  uninspired american formula, and therefore ruining yet another cinematic masterpiece for another generation of film goers…!
Considered by many to be the best anti-war film ever made (its been called the holy-grail of 70s anti-war films), this is cinema at its most revelatory – the entire film actually takes place in a single room in which a soldier is dealing with his injuries. Through memories and thoughts we witness the re-construction of his life, mixed with dreams and fantasies.
This film was skillfully directed by Dalton Trumbo, who also wrote the best-selling book this movie is based on. Many big name directors wanted to make this film, but they also wanted to change things in the script. Trumbo wouldn't give in, so in the end he directed this brilliant film himself… and thankfully for us he did.
Its difficult to think of another film which is as deep and sincere as this gem from the 70s. What can I say about the profound impact of this film? For the cinema of fake sensationalism, of hyper entertainment, this is a movie which moves, through its razor-sharp honesty. Theerfore it certainly blows every film that is playing now downtown in the Pathe away! Starring Timothy Bottoms, the excellent cast also includes Jason Robards and Donald Sutherland (as Christ).
This will be a high-definition screening of this riveting cult classic.
Film night at Joe's Garage, cozy cinema! Doors open at 8pm, film begins at 9pm, free entrance. You want to play a movie, let us know: joe [at] squat [dot] net