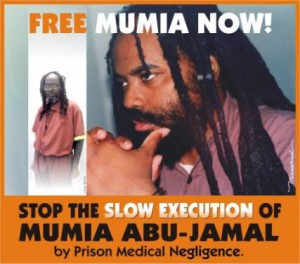 Monday December 7th 2015, Benefit for Mumia Abu-Jamal. Volkseten Vegazulu, 7pm.
Mumia Abu-Jamal is an African American reporter and political activist, who spent 34 years innocent in the prison of Pennsylvania, from which he spent 30 years in isolation on death row. Here the statement issued by his support group on October 20, 2015:
IMMEDIATE TREATMENT FOR HEP C FOR POLITICAL PRISONER MUMIA ABUJAMAL
AND 10,000 OTHER PA PRISONERS
"In 1199 we believe that quality health care is a human right for every person in this country, and it should not be determined by your income, your zip code, or whether or not you are an imprisoned person," said Estela Vasquez, executive vice president of Local 1199 SEIU, United Healthcare Workers East, which is hosting the press conference. "We demand immediate treatment for Mumia Abu-Jamal. We cannot allow the authorities of the state of Pennsylvania to continue to deny him lifesaving medical treatment."
Mumia Abu-Jamal, an internationally renowned political prisoner who Amnesty International and other human rights organizations say was unfairly convicted in the 1982 killing of a Philadelphia policeman, has been severely ill with symptoms of active hepatitis C for at least the last six months. If left untreated, hep C can lead to diabetes, heart disease, liver failure and even death. New direct-acting, anti-viral medications for hep C exist with a 95 percent cure rate. Endorsed by the American Liver Foundation, these treatment protocols were adopted by the Federal Bureau of Prisons in June, ensuring immediate treatment for all federal prisoners with active hep C symptoms.
Abu-Jamal is not alone. There are an estimated 10,000 PA Department of Corrections (DOC) inmates, many of whom are over 60 years old, who have the hep C virus. A 1997 study estimated that 29 to 43 percent of all people infected with hep C passed through a correctional facility. Called a "silent epidemic," HCV has a disproportionate impact on impoverished communities and people of color. While African Americans comprise about 13 percent of the U.S. population, they represent 25 percent of all hep C cases. For African Americans ages 45 to 65 years old, hep-C-related chronic liver disease is the leading cause of death.
New York State prisons hold an estimated 10,000 prisoners with HCV. But the difference is that New York prisons have begun to treat prisoners with HCV, including political prisoner Seth Hayes.
In Pennsylvania the state has repeatedly denied lifesaving treatment for Abu-Jamal and the other prisoners. According to Dr. Joseph Harris, an expert in hep C who reviewed Abu-Jamal's medical records and examined him, "Failure to treat Mr. Abu-Jamal's hepatitis C will result in serious harm to his health, as his current extra-hepatic symptoms will not be cured, and he faces an increasingly serious risk of suffering from fibrosis and cirrhosis, liver cancer, complications of his diabetes, and eventual death." Dr. Harris's statement is part of a 10-page affidavit submitted to a federal Pennsylvania court in August demanding immediate treatment for Abu-Jamal. (A summary of it will be passed out at the press conference, and is available upon request.)
It took extensive international protests beginning in March, when activists held sit-ins at the PA DOC, press conferences in the rotunda of the Harrisburg capitol and at SCI Mahanoy prison, and a daily deluge of phone calls from all over the world to three governmental officials that Abu-Jamal was transferred to a hospital in mid-May for extensive testing, which showed he had liver damage. Only now are the PA DOC and the PA Dept. of Health hammering out a protocol.
"The evidence is overwhelming that the suffering being experienced by Mumia is the result of hepatitis C," said Robert J. Boyle, one of his lawyers. "The Pennsylvania Department of Corrections can cure him and many others by administering treatment. Their refusal to do so is a violation of the Constitution and basic human rights."
CRITICAL COURT HEARING FOR MUMIA ABU-JAMAL IN SCRANTON, PA (Getting Mumia the New Hepatitis-C Medication). December 18, 2015
While Mumia is definitely better, which is not to the credit of the Department of Corrections, but rather to the thousands who have struggled for him over the last many months. But he still has hep-C, is in the infirmary, and is subject to getting very sick again as the underlying problem has not been resolved.
There will be a court hearing in Scranton, PA, on Friday, December 18, on whether or not Mumia should get treatment for his hepatitis-C. We want to pack the courtroom to support the demand for Mumia and 10,000 other Pennsylvania prisoners infected with hep-C to get the new drug which has shown a greater than 90% cure rate.
Friday, December 18, at 9:30 am In Scranton
---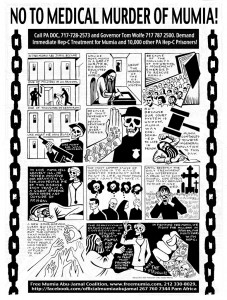 Cartoon about Mumia from Seth Tobocman, a renowned comic book artist whose work deals with political issues. In 1979, he and Peter Kuper co-founded the magazine World War 3 Illustrated. His work on this project continues to this day. In 1985, he collaborated with Charles Frederick on a poster protesting the bombing of the MOVE house. In 1994, he produced Freedom of Speech in Black and White, a 15-page black-and-white biography of Mumia that was published in World War 3 Illustrated and has since been reprinted in many places and many languages. Since then, Mumia Abu-Jamal has been contributing articles and artwork to World War 3 Illustrated. In 1999, Seth did a second Mumia biography; this one, two pages in color, was published in Revolutionary Worker. Seth Tobocman continues to produce art for radical movements.
Click on the link below for a large readable version of the cartoon:
https://joesgarage.nl/wp-content/uploads/joe2/2015/12/20151009_cartoon_Seth_Tobocman_Mumia_Abu_Jamal.jpg
---
Angela Davis is calling for action, to flood the Governor with cards. He is the one who could just put his autograph to set Mumia free. During the benefit, these cards will be available. If you want to write a card yourself, then here's the direction of the governor:
Governor Tom Wolf, 508 Main, Capitol Building, Harrisburg, PA 17120, USA. email: governor [at] pa [dot] gov tel:(717)7872500
If you want to write to Mumia himself: Mumia Abu-Jamal, #AM 8335 SCI Mahanoy, 301 Morea Road, Frackville, PA 17932, USA.
Don't forget our prisoners. POWER FOR FREEDOM!
for more information look at: http://www.freemumia.com
Volkseten Vegazulu is a people's kitchen, every monday, 7pm, vegan food for 4€ or donation. All benefits go for social & political struggles. No reservation. From September, the people's kitchen is also open on thursday.
We're always looking for cooks. Any help is welcome in the kitchen. Experience not required. Enjoying it is a must. If you want to know which days are still available in the schedule, send an email to joe [at] squat [dot] net and book yourself the night. You can, of course, also participate by rolling up your sleeves and doing the dishes.