Monday 18 september 2023, Samidoun benefit voku. Food served from 7pm, no reservation.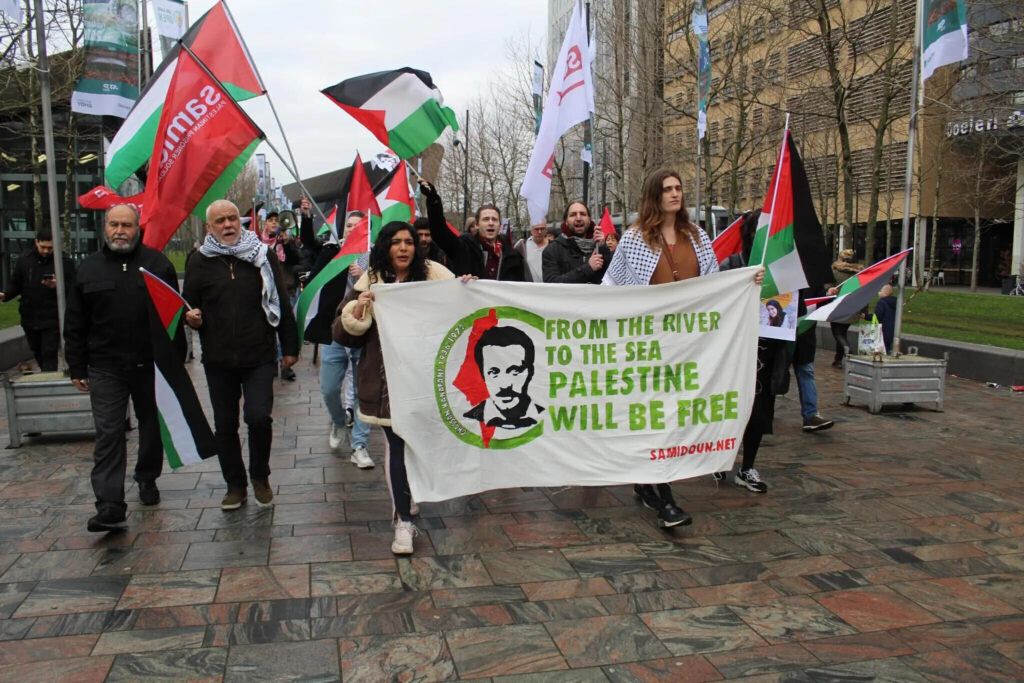 Laatste bericht van Samidoun op hun website (17 augustus 2023) : Palestijnse overwinning in Nederlandse rechtbank: from the river to the sea, Palestine will be free!
Op dinsdag 15 augustus heeft het gerechtshof in Nederland bevestigt dat de slogan "from the river to the sea, Palestine will be free" valt onder de vrijheid van meningsuiting en niet strafbaar is. De uitspraak van de rechtbank betekent een overwinning voor de Palestijnse beweging in het algemeen, en in Nederland specifiek. Uitingen voor Palestijnse bevrijding kunnen niet zomaar bestempeld worden als antisemitisme.
De aanklacht werd in juni 2021 ingediend door een zionistische activist tegen Samidoun Nederland-lid Thomas Hofland. Zijn gebruik van de slogan "from the river to the sea, Palestine will be free," in een speech die hij gaf tijdens de jaarlijkse Nakba-demonstratie een maand eerder, zou zogenaamd antisemitisch zijn. Het is een valse beschuldiging die met regelmaat door zionistische organisaties, media en politici wordt gebruikt tegen Palestina activisten internationaal.
Zowel de officier van justitie als de advocaat-generaal hadden de aanklacht binnen een jaar ongegrond verklaard. "Feit niet strafbaar," concludeerden zij. Echter, de behandeling van de zaak duurde in totaal ruim twee jaar, omdat de klager telkens in beroep ging. Met deze laatste uitspraak van het hof is bevestigd dat het rechtvaardig is om op te roepen voor de bevrijding van Palestina van de rivier tot aan de zee.
Willem Jebbink, Hofland's advocaat, zei het volgende over de uitspraak:
"Het gerechtshof is erg kort van stof geweest. Maar de uitspraak is glashelder: de frase 'from the river to the sea, Palestine shall be free' is niet antisemitisch. Ook niet haatzaaiend, opruiend of bedreigend. Daarmee heeft het hof de vrijheid van meningsuiting erkend. Dat is juist in het Palestina-Israëldebat van belang. Misschien wel meer dan ooit. Personen die zich tegen de aanhoudende mensenrechtenschendingen door Israël uitspreken worden vaak op lichtzinnige gronden antisemitisch genoemd. Een doorzichtige redeneertruc die slechts de functie heeft om de aandacht van de inhoud van het debat af te leiden, van wat in de bezette gebieden gebeurt.
Het is elementair dat wij in onze samenleving zonder gevaar voor criminalisering scherpe kritiek op het beleid van Israël kunnen hebben. Dat de Palestijnen als vrije en gelijkwaardige burgers in hun thuisland moeten kunnen wonen. In de geografische en historische eenheid tussen – inderdaad – de zee en de Jordaan, vrij van onderdrukking door Israël of enig Arabisch regiem of wie dan ook."
Als Samidoun Palestijnse Gevangenen Solidariteitsnetwerk zijn we blij met het ongegrond verklaren van de aanklacht tegen ons lid. Het is een overwinning voor alle Palestijnen en Palestina activiste. En et is het resultaat van decennialang actievoeren voor de onvervreemdbare rechten van het Palestijnse volk, om Palestina te bevrijden en ernaar terug te keren.
Tegelijkertijd moeten we doorgaan met het verdedigen van activisten voor Palestina internationaal. In het Verenigd Koninkrijk zitten activisten van Palestine Action gevangen. In Frankrijk loopt nog steeds een zaak om Collectif Palestine Vaincra, een lidorganisatie van Samidoun, te verbieden. In Duitsland roepen zionistische politici en media op om Samidoun te verbieden. En in Nederland werden onlangs twee activisten gearresteerd vanwege hun financiële steun aan Palestijnen in vluchtelingenkampen.
Vrijheid voor alle Palestijnse gevangenen!
Vrijheid voor Palestina van de rivier tot aan de zee!
https://samidoun.net/nl/
Volkseten Vegazulu is a people's kitchens existing since the very beginning of Joe's Garage, June 2005. Your donations are welcome. Food is vegan, no reservation. All benefits go to social & political struggles. Joe's Garage is a space run by volunteers. Without a collective effort, without your active participation, we're remaining closed. Get in touch in you feel like giving a hand. We're always looking for cooks. Any help is welcome in the kitchen. Experience not required. If you want to know which days are still available, mail us.