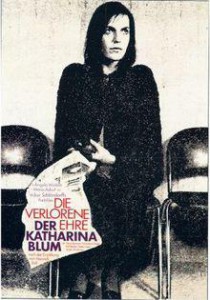 Sunday January 24th 2016: "Die verlorene Ehre der Katharina Blum" by Margarethe von Trotta and Oliver Schlöndorf (1975), based on a story by Heinrich Böll (1974) written after he got attacked in the press for an article about Ulrike Meinhof.
German with (corrected) English subtitles, 106 min. Door opens at 8pm, film begin at 9pm. Free admission.

Katharina Blum is the story of a woman who works as a housekeeper whose life is ruined by an invasive tabloid reporter and a police investigation when the man with whom she has just met and quickly fallen in love is accused of being a terrorist. She suddenly becomes a suspect in the crimes he's being accused of.
Story and film were written and produced during a time of political controversy in West Germany, and a time when being branded a terrorist allowed the press free reign. (https://en.wikipedia.org/wiki/The_Lost_Honour_of_Katharina_Blum_%28film%29)
40 years later, this film is still relevant when social media takes over the role of the tabloid press.
The original subtitles of the film contain some mistakes, and they've been corrected for this screening.
Film night at Joe's Garage, cozy cinema! Doors open at 8pm, film begins at 9pm, free entrance. You want to play a movie, let us know: joe [at] squat [dot] net