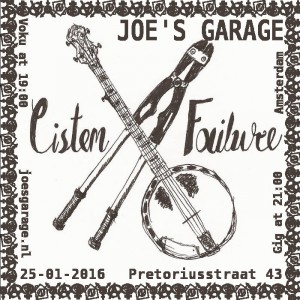 Monday January 25th 2016, Concert with Cistem Failure. Volkseten Vegazulu, 7pm. Music from 9pm till 10pm!
Anarcha feminist folk punk queers from all over the place, fighting the cisheteropatriarchy one banjo at a time… members include Momma Swift and Roverrr.
"We are a travelling Anarchist feminist queer band. We are involved in different political projects/spaces/struggles and try to combine our words with our actions when we can. We play rowdy political banjo folkpunk. We would like to see more non binary peeps, Transfolk, and female asociated people play music, make zines, take the space in male-dominated music scenes that we all deserve to be part of.
On our lists of things to smash in 2015/2016: Patriarchy, Heteronormativity, Prisons, speciesism, The State, Racist dutch Christmas, RWE, unrealistic Beautystandarts, Borders, Bad consent practices, Capitalism…. We cant do this alone though!"
Smash the Freakin Patriarchy Tour 2016: 25/1 Joe's Garage – 26/1 Bajesdorp – 27/1 Utrecht, 29/1 AZ Wuppertal, 2/2 Brussel. 3/2 Ghent, 4/2 Paris…. https://cistemfailure.noblogs.org/
Volkseten Vegazulu is a people's kitchen, every monday and thursday, all year long. Door opens at 7pm. Vegan food for 4€ or donation. All benefits go for social & political struggles. No reservation. In July and August, the people's kitchen is closed on thursday.

We're always looking for cooks. Any help is welcome in the kitchen. Experience not required. Enjoying it is a must. If you want to know which days are still available in the schedule, send an email to joe [at] squat [dot] net and book yourself the night. You can, of course, also participate by rolling up your sleeves and doing the dishes.