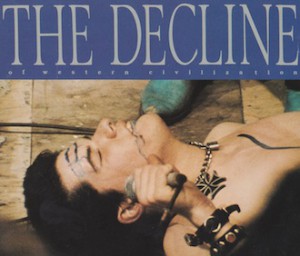 Sunday February 7th 2016. The Decline of Western Civilization (1981). Directed by Penelope Spheeris, 100 minutes. In English. Door opens at 8pm, film begin at 9pm. Free admission.
This is the legendary indie documentary about the 80s American punk explosion, which is a wild cinematic gem not only for the music but also for the razor-sharp filmmaking and fascinating look at a subculture, which is packed with energy and abrasive vigor. The film has an appeal to anyone who likes the music, but also to people who know nothing about it, with an almost anthropological quality to it.
A mix of outrageous interviews interspersed with visceral concert footage, the film was mostly shot in seedy L.A. clubs and acutely captures the mood of those rebellious times. Director Penelope Spheeris (Wayne's World) is a woman who dives into the chaos and extracts mind-boggling interviews with the "blank generation" youths who hang out at the nightclubs. She also incorporates footage of bands like Catholic Discipline, X, Black Flag, Circle Jerks, Fear and The Germs as a backdrop. An incredible time-capsule, which shows that cinema is perhaps even a better way than books to record history.
This will be a high-definition screening.
Doors open at 8pm, intro and film start at 9pm
Film night at Joe's Garage, cozy cinema! Doors open at 8pm, film begins at 9pm, free entrance. You want to play a movie, let us know: joe [at] squat [dot] net