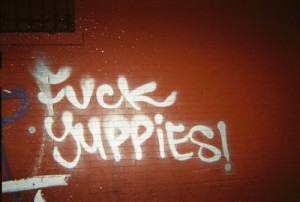 Friday February 19th 2016, Urban Struggle: Guest Lecture on Squatting in Amsterdam. From 12:45 till 14:00. English spoken/ limited places available due to space constraints, if you want to attend this event please email in advance to urbanstruggle [at] fastmail.com.
This afternoon, Joe's Garage hosts a guest lecture for the students of the course Urban Struggle. The focus will be on squatting in Amsterdam, and topics such as the effects of the 2010 ban, the right to the city and the risks of cooptation by the government will be addressed. Urban Struggle is part of the bachelor's degree in Sociology of the University of Amsterdam and the aim of the class is to teach students about "the importance of (urban) social movements for articulating a collectivity's interest and claims."
Joe's Garage biedt deze middag ruimte aan een gastcollege voor de studenten van het vak Stadsstrijd (geheel in het Engels). De focus zal liggen op kraken in Amsterdam, en onderwerpen zoals het verbod van 2010, het recht op de stad en de risico's van cooptatie door de overheid zullen aan bod komen. Stadsstrijd is onderdeel van de bachelor in de sociologie van de Univcersiyteit van Amsterdam en het doel van de cursus is om studenten te leren over "het belang van (stedelijke) sociale bewegingen voor het articuleren van het belang en de aanspraken van collectiviteiten".