Thursday 30 November 2023, VoKu benefit + Documentary Screening for ZZW Rafelrand Mobilization. Food served from 7pm, screening Hotel Mokum (Yannesh Meijman, 2023, 30′) starts at 9pm, no reservation.
"ZZW Rafelrand" is one of the last frayed edges of Amsterdam, mobilizing under "Nightingales & Chickens: Unite! 4 de Laatste Rafelranden van Amsterdam", in light of its threatened eviction starting in June 2024. The rafelrand has been a colorful patchwork of communities on Zeeburgereiland in the East of Amsterdam for over 40 years. Part of its communities is the ZZW student community of 235-people existing for 20 years. We have communal gardens, a give-away shop, organize skillshares & OnsEiland Leven community events. The DIY character of the ZZW community emerged in close relation to its surrounding frayed edges, among which artist community Fort Knox, the trailer community One Peaceful World, rockabilly club the Cruise In, to name but a few.
In light of the threatened eviction of the whole neighborhood, our mobilization is focused on bringing attention to our case, fighting against the erasure of Amsterdam's frayed edges and its (young) creative spaces of counterculture and self-organization. Donations will go to sticker & flyer printing for ADEV (in collab with Krektek & Kloki) and for printing upcoming sticker & flyers.
We will cook a vegan dinner, while we introduce you to ZZW Rafelrand! Afterwards, there will be a screening & discussion of Mokum Kraakt's documentary "Hotel Mokum".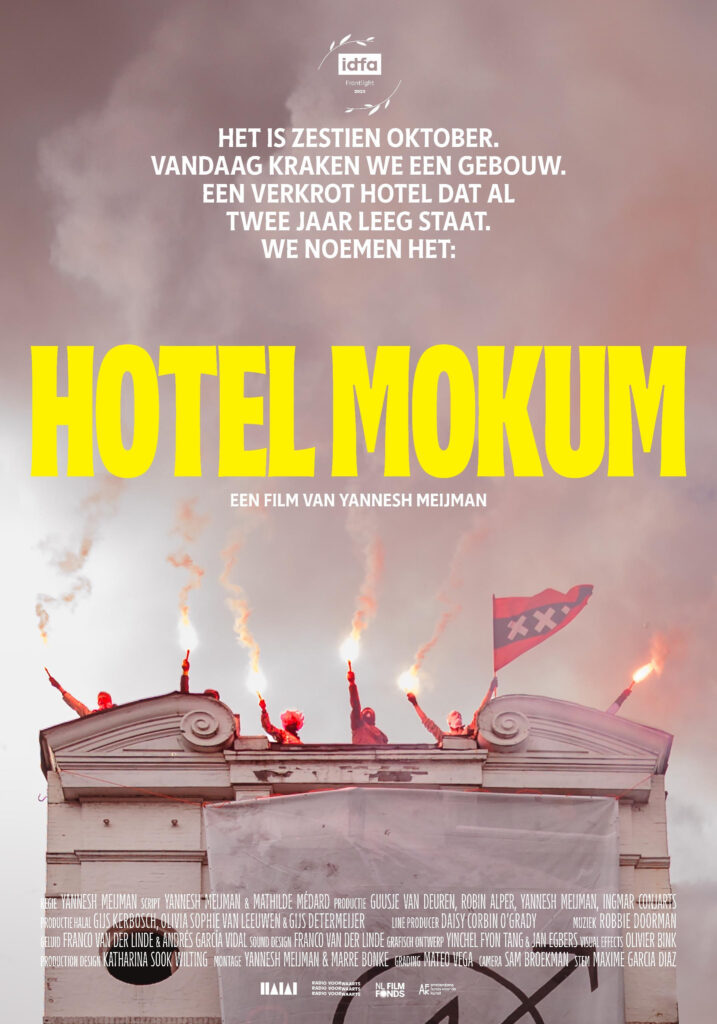 Hotel Mokum (Yannesh Meijman, 2023, 30′), in Dutch with English subtitles.
Hotel Mokum is a documentary about a collective that squatted the abandoned Hotel Marnix in the heart of Amsterdam on October 16th, 2021. Over six weeks the collective transformed the hotel into a home, a self-proclaimed free space and an oasis in a city smothered by hypergentrification. At the height of its popularity, Hotel Mokum got evicted under the guise of fire safety. The story of Hotel Mokum is rooted in protest: against both the housing and cost of living crises, as well as the criminalization of squatting in 2010 that led to the eviction of over 300 squats in Amsterdam alone. The film combines documentary footage, archival materials, and constructed scenes to create a complex and intimate portrait of a hopeful collective and the city they are working to reclaim.
Find ZZW Rafelrand events on Radar https://radar.squat.net/en/amsterdam/zzw-rafelrand
Join our mailing list: zzw [at] riseup [dot] net
Volkseten Vegazulu is a people's kitchens existing since the very beginning of Joe's Garage, June 2005. Your donations are welcome. Food is vegan, no reservation. All benefits go to social & political struggles. Joe's Garage is a space run by volunteers. Without a collective effort, without your active participation, we're remaining closed. Get in touch in you feel like giving a hand. We're always looking for cooks. Any help is welcome in the kitchen. Experience not required. If you want to know which days are still available, mail us.