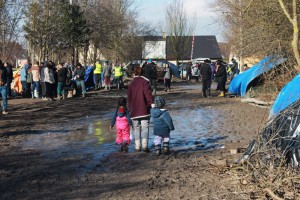 Monday February 29th 2016, Benefit for Dunkirk refugee camp, Volkseten Vegazulu, 7pm.
The ‪Dunkirk‬ refugee camp (Dunkirk, France) has been a temporary home to around 3000 refugees since October 2015. The camp is predominantly Kurdish (mainly from Iraq, but also Syria and Iran). Most refugees are trying to cross over to Britain. Dunkirk is facing a sanitary and humanitarian crisis. There is loads of mud and a severe lack of facilities, electricity, running water and building material (not being allowed into the camp by the police). Dunkirk needs volunteers, especially Kurdish, Arabic and Farsi speaking ones. This benefit is meant to help volunteers meet, discuss and make plans but also gather goods and supplies for the camp.
Volkseten Vegazulu is a people's kitchen, every monday and thursday, 7pm, vegan food for 4€ or donation. All benefits go for social & political struggles. No reservation.
We're always looking for cooks. Any help is welcome in the kitchen. Experience not required. Enjoying it is a must. If you want to know which days are still available in the schedule, send an email to joe [at] squat [dot] net and book yourself the night. You can, of course, also participate by rolling up your sleeves and doing the dishes.