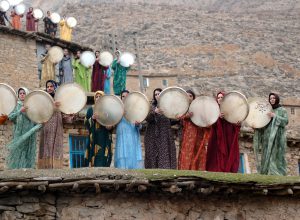 Sunday March 20th 2016, Kurdish new wave cinema: Half Moon (2006). In Sorani Kurdish and Farsi with English subtitles. Door opens at 8pm, film begins at 9pm. Free admission.
Half Moon (Kurdish: Nîwe Mang/Nîvê Heyvê) is a 2006 film written and directed by Iranian Kurdish filmmaker Bahman Ghobadi. Half Moon is a joint production of Iran, Austria, France and Iraq. This movie was commissioned by the New Crowned Hope festival, a celebration of the 250th birthday of Wolfgang Amadeus Mozart, and the story plot has been inspired in part by Mozart's Requiem.
Synopsis
Synopsis: Mamo, an old renowned Kurdish musician, has begun a journey to Iraq with his sons to perform a concert after the fall of Saddam Hossein. Kako, a middle-aged man and a huge fan of Mamo's, enthusiastically escorts them in an orange mini bus which he has borrowed from a friend. Mamo gathers his sons one by one from different areas. The last son who joins the team insists on speaking to Mamo in private. He explains to Mamo that the Wise man of the village has predicted that Mamo should not go on the trip because, as the full moon nears, something awful will happen to him. Mamo persists on continuing his journey. He claims that he must continue his trip despite all the obstacles because he was not allowed to perform in Iraq for many years. Mamo intends to take Hesho, a female singer who lives with 1334 other women in exile, as part of his team. But the strength of Hesho's voice has dwindled along with her self confidence. While crossing the borders, Mamo's team faces many difficulties as their journey is wrought with adventure and disaster each step of the way.
Bahman Ghobadi was born on February 1st, 1969 in Baneh, a city near the Iran-Iraq border in the province of Kurdistan, Iran. He was the first son in a family of seven siblings. He lived in Baneh until, at the age of 12, civil disputes caused his entire family to immigrate to Sanandaj, the center of Kurdistan Province in Iran. After graduating from high school in Sanandaj, Ghobadi moved to Tehran in 1992. He started his artistic career in the field of Industrial Photography. Though he attended the Iranian Broadcasting College, he never graduated. Rather than following a formal curriculum, he believed the only way he could learn the craft of cinema was by tirelessly making short films. Using 8mm film, his starting point was to shoot a series of short documentaries.
Through his instinctive and hands-on approach to filmmaking, Ghobadi developed a unique style, soon gaining widespread local recognition. A breakthrough came with "Life in a Fog" (1999), one of the most acclaimed shorts ever made in Iran. Following this success, Bahman Ghobadi went on to make A Time for Drunken Horses" (2000)- the first feature-length Kurdish film in the history of Iran. In the wake of being awarded several different International Awards, Ghobadi attracted international attention and established himself as a pioneer of Kurdish cinema.
Half Moon has been widely praised at film festivals the world over, gathering dozens of awards, but was little or not seen in his native country. In 2009, Ghobadi completed "No One Knows About Persian Cats"- a semi- documentary about the underground indie music scene in Tehran, filmed in Iran without an official permit and in very restricted conditions. He has since had to leave Iran and continue working abroad. His latest film to date, "Rhino Season" (2012), was shot in Istanbul.
More about the film: http://www.mijfilm.com/filmography/half-moon
Trailer: https://www.youtube.com/results?search_query=half+moon+bahman
Film night at Joe's Garage, cozy cinema! Door opens at 8pm, film begins at 9pm, free entrance. You want to play a movie, let us know: joe [at] squat [dot] net