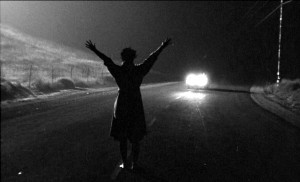 Sunday march 13th 2016, Can Dialectics Break Bricks Cinema: Kiss Me Deadly, 1955. Directed by Robert Aldrich. 106 minutes. In English with English subtitles. Door opens at 8pm, film begin at 9pm. Free admission.
Private dick Mike Hammer gets more than he bargained for when one night he picks up a dazed woman on the highway who is running barefoot and is wearing nothing more than a trench coat. This chance encounter leads our confused detective down the darkest alleys he's ever ventured, and the old Greek legend of Pandora is given an ultra-modern twist. This surreal flick is legendary for its wild mix of genres, including its cold war theme and its dynamite apocalyptic climax.
Based on the novel by Mickey Spillane and directed with a punch by Robert Aldrich (What Ever Happened to Baby Jane?) this is a classic film noir, and one that had a
big influence on many modern movies, such as Pulp Fiction and Alex Cox's cult film Repo Man. Personally I see detective Mike Hammer's sleazy, hard-nose mentality as a beautiful illustration of America's essential nihilism. It was critically neglected when it was first released in the States, but this existential '50s cold war paranoia thriller was instantly hailed by European critics as a masterpiece.
This will be a high-definition screening. Doors open at 8pm, intro and film start at 9pm
Film night at Joe's Garage, cozy cinema! Doors open at 8pm, film begins at 9pm, free entrance. You want to play a movie, let us know: joe [at] squat [dot] net