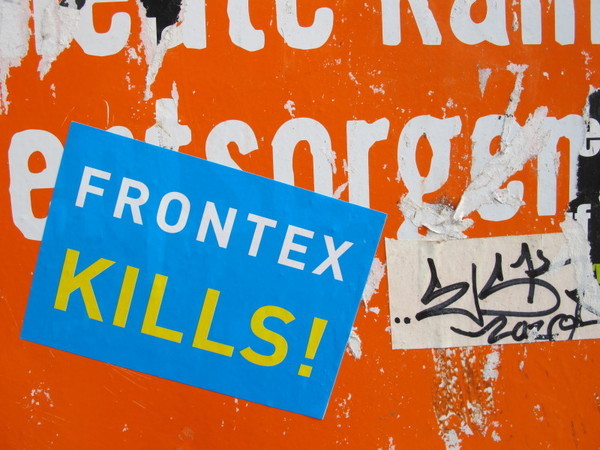 Monday November 6th 2017, Benefit Freedom of Movement. Volkseten Vegazulu, 7pm
The current developments on the EU-borders demonstrate the power of migration that breaks the illusion of Europe as an island of equal rights, civilization, democracy and welfare(state). We support the migrants who come to our borders and welcome them The EU has always pretended to be in control of the border security without degenerating into a Fortress Europe. Given the large numbers of migrants entering 'irregularly' today, the EU broke out in panic while portraying migrants as a threat and migration as a crime. The repressive EU-deal like the one with Turkey is not new. Other buffer states such as Morocco, Libya, Mauritania, Senegal have had to sign those deals in the past where migrants, irrespective of flight pattern, are kept outside the EU. Human rights are violated outside the EU in return of a bag of money. The war against immigrants is just more visible now because it is clear that the EU cannot control the migration at its borders. We support migrants breaking through borders and confronting the image of the EU as an tolerant civilization. The EU is pressuring African states to stop migration threatening with stopping development Aid: the Velletta agreements. We say: Open Escape Routes! Stop Deportations! Our African friends are resisting these deals: http://www.allincluded.nl/posts/actie-landgrabbing-office-du-niger-in-mali/
All Included is involved in Afrique-Europe Interact, a partnership between African and European grassroots organizations that support free migration and sustainable development. Contacts are mainly in Western Europe (Mali, Togo, Burkina Faso, Senegal) and North Africa (Morocco, Tunisia). Themes are deportation, freedom of movement, land grabbing, corruption. All Included is also active in Watch the Med http://www.watchthemed.net/) and Alarm Phone (http://alarmphone.org/en/), a 24-hour emergency phone for those who cross the Mediterranean. Undocumented migrants in Amsterdam are where possible supported by All Included.
What's included?
All Included Amsterdam is a new initiative that fights for freedom of movement and for the right of residence for migrants. In a time when globalization is a fact, migration should be recognized as part of a package deal. It's All Included. This means: no illegality, no detention for undocumented migrants and no forced evictions.
With the disappearance of national borders, national identity disappears. Everyone becomes global citizen and deserves regardless of origin equal rights and equal opportunities. Therefore also for migrants 'all included' rights and obligations.
Allincluded.nl fightsg for an open society through extra-parliamentary action which intervenes in the political climate of assimilation, closeness and fear. Through direct assistance to rejected asylum seekers and other migrants without residence permit, indictments against abuses of current polities are being propagated. We want to contribute to the public debate with alternative visions of migration and globalization based on open borders, solidarity and initiative from the base.
Volkseten Vegazulu is a people's kitchen, every monday and thursday, all year long. We are remaining closed if no one is volunteering to cook. Keep an eye on this page to make sure we are open. Door opens at 7pm. Vegan food for 4€ or donation. All benefits go for social & political struggles. No reservation.
Have you ever considered cooking at Joe's Garage with your friends? We're always looking for cooks. Any help is welcome in the kitchen. Experience not required. Enjoying it is a must. If you want to know which days are still available in the schedule, send an email to joe [at] squat [dot] net and book yourself the night. You can, of course, also participate by rolling up your sleeves and doing the dishes.