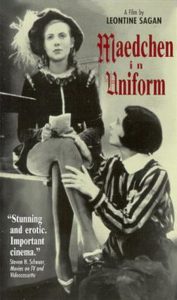 Sunday 27 May 2018, Movie night: Girls in Uniform / Mädchen in Uniform (Leontine Sagan, 1931).
German with English subtitles | 98 minutes.
Doors 20:00 | Film 20:30
At a boarding school that turns the daughters of soldiers into future mothers of soldiers, 14-year old Manuela falls in love with one of her teachers.
"Mädchen in Uniform" was groundbreaking in having an all-female cast; in its sympathetic portrayal of lesbian "pedagogical eros"; and in its co-operative and profit-sharing financial arrangements (although these failed). Unsurprisingly it was banned in Nazi Germany, and only re-released on television in 1977, some 20 years after a much toned-down remake with Romney Schneider.
Film night at Joe's Garage, cozy cinema! Free entrance. You want to play a movie, let us know: joe [at] squat [dot] net