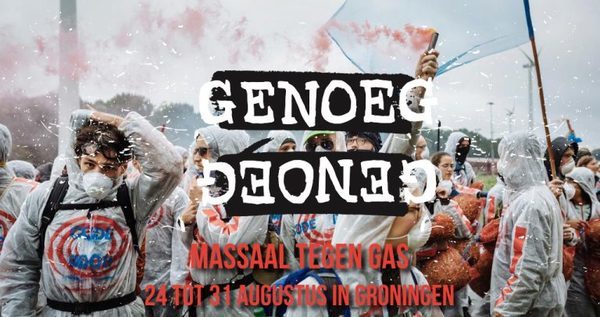 Thursday May 10th 2018, Wij Stoppen Steenkool Voku Benefiet & Code Rood Info. Volkseten Vegazulu, 7pm.
Benefit for covering the costs of the Wij Stoppen Steenkool action in the harbour of Rotterdam. There will also be a short presentation on Code Rood and the planned action and camp in Groningen of late August. An ideal moment to get to know people that are involved with Code Rood https://code-rood.org/ www.youtube.com/watch?v=cw-hoQIF2Xk
About Enough=Enough
IT'S CODE RED FOR GRONINGEN AND THE CLIMATE! Gas must stay in the ground and all the earthquake damage needs to be compensated. But the NAM, Shell and Exxon keep on pumping. And the government is allowing this to happen.
THAT IS WHY WE ARE DRAWING A LINE: from the city to the countryside, from Groningen and beyond, we are joining forces around Groningen's liberation day on the 28th of August. With the first mass action of civil disobedience in Groningen we are sending out a powerful signal: leave the gas in the ground! Everyone can contribute, experience is not required.
Together with people from Groningen, Code Rood is also organising an ACTION CAMP IN GRONINGEN from 24 to 31 August. Here, we will offer a wide programme of workshops, trainings and open discussions about gas extraction and a fossil free world. And in the evenings there'll be a campfire and music. You can stay at the camp overnight, or drop by for a day visit.
Volkseten Vegazulu is a people's kitchen, every monday and thursday, all year long. We are remaining closed if no one is volunteering to cook. Keep an eye on this radar page to make sure we are open. Door opens at 7pm. Vegan food for 4€ or donation. All benefits go for social & political struggles. No reservation.
Have you ever considered cooking at Joe's Garage with your friends? We're always looking for cooks. Any help is welcome in the kitchen. Experience not required. Enjoying it is a must. If you want to know which days are still available in the schedule, send an email to joe [at] squat [dot] net and book yourself the night. You can, of course, also participate by rolling up your sleeves and doing the dishes.