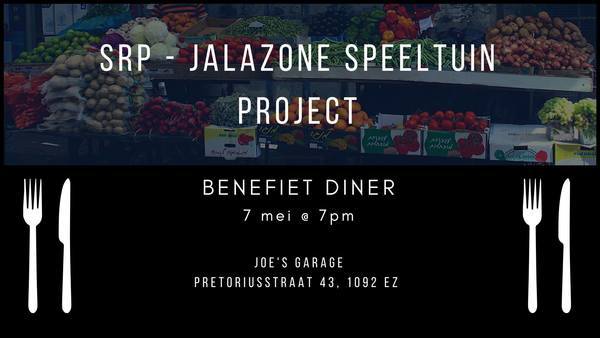 Monday May 7th 2018, Benefiet diner #3 voor Jalazone, Volkseten Vegazulu, 7pm.
The third of SRP's benefit dinner series at Joe's Garage. Part of our fundraising campaign for Jalazone, a project to support building a playground for the children in the camp.
Last summer SRP visited Jalazone camp during one of our annually organised trips to Palestine. The living circumstances of the Palestinians in this refugee camp left a lasting impression on the group. Motivated by what they had seen they asked the local women's collective for advice. Out of this conversation, a fund-raising project for the building of a children's playground was formed.
Come and join us for a delicious meal and bring along your friends, family and neighbors. It will be a night of good company and great food!
SRP (Studenten voor Rechtvaardigheid in Palestina) : https://srpnederland.wordpress.com/
Volkseten Vegazulu is a people's kitchen, every monday and thursday, all year long. We are remaining closed if no one is volunteering to cook. Keep an eye on this radar page to make sure we are open. Door opens at 7pm. Vegan food for 4€ or donation. All benefits go for social & political struggles. No reservation.
Have you ever considered cooking at Joe's Garage with your friends? We're always looking for cooks. Any help is welcome in the kitchen. Experience not required. Enjoying it is a must. If you want to know which days are still available in the schedule, send an email to joe [at] squat [dot] net and book yourself the night. You can, of course, also participate by rolling up your sleeves and doing the dishes.