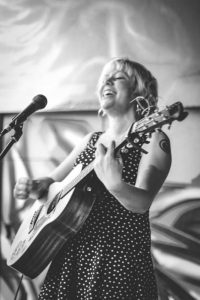 Thursday May 31st 2018, Volkseten Vegazulu, 7pm. Music between 9pm and 10pm with Efa Supertramp (punk folk singer, Cardiff). Free admission, donations welcome.
Efa Supertramp is back for a few days in Amsterdam. Her third appearance at Joe's Garage. Efa is a folk punk grrrl armed with just an acoustic guitar and a powerful voice. With her passionate attitude for performing and DIY culture, she's been making a name for herself in the underground punk and folk scene with her truthful attitude to life and politics. Originally from Wales, now based in London, Efa sings in both English and Welsh, her mother-tongue language. Her songs are angry but uplifting, she hates money, power, greed and inequality, but loves living life as free as she can. https://efasupertramp.wordpress.com/
Volkseten Vegazulu is a people's kitchen, every monday and thursday, all year long. We are remaining closed if no one is volunteering to cook. Keep an eye on this radar page to make sure we are open. Door opens at 7pm. Vegan food for 4€ or donation. All benefits go for social & political struggles. No reservation.
Have you ever considered cooking at Joe's Garage with your friends? We're always looking for cooks. Any help is welcome in the kitchen. Experience not required. Enjoying it is a must. If you want to know which days are still available in the schedule, send an email to joe [at] squat [dot] net and book yourself the night. You can, of course, also participate by rolling up your sleeves and doing the dishes.