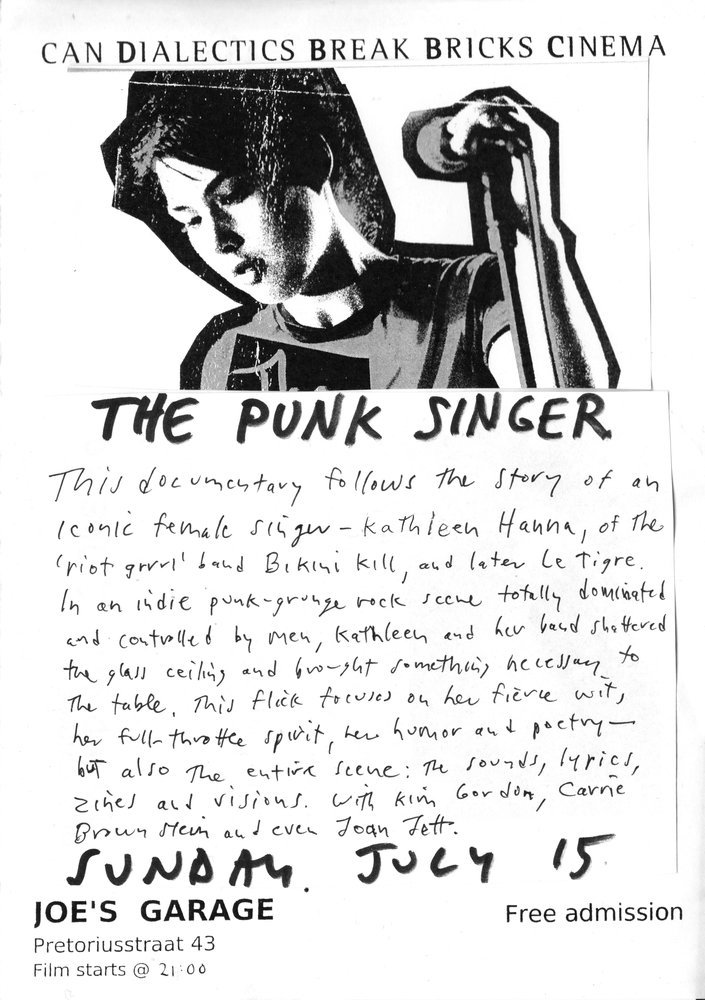 Sunday 15 July 2018, Can Dialectics Break Bricks Cinema. Doors open at 20.30. Intro and film start at 9 pm. THE PUNK SINGER, 2013, directed by Sini Anderson, 81 minutes. In English.
This documentary follows the story of an iconic female singer – Kathleen Hanna of the 'riot grrrl' band Bikini Kill (an acknowledged influence on Kurt Cobain) and later Le Tigre. In an indie-punk/grunge rock scene totally dominated and controlled by masculinity, Kathleen Hanna and her band shattered the glass ceiling and brought something necessary to the table. The film focuses on her fierce wit, her full-throttle spirit, her humor, her spoken-word poetry, her controversial activism – and in the end it also reveals why she suddenly went silent and totally dropped out of the scene without a warning in 2005. In the end it's an intimate portrait on so many levels.
Besides the life of Kathleen Hanna, this documentary is also a fascinating look at the explosive riot grrl movement… the sounds, lyrics, the zines, and manifestos. There are also scattered interviews throughout the journey with relevant voices like Kim Gordon (Sonic Youth), Carrie Brownstein and even Joan Jett. The Punk Singer is engaging, insightful, thrilling, hilarious, sad and poignant. Kathleen Hanna has been described as a 'cultural lightning rod', signaling a new voice for women… and here her voice is interwoven with high-voltage performance footage, creating a wonderful film about perseverance and resilience. For anyone interested in feminist art, music or life in general.
Film night at Joe's Garage, cozy cinema! Free entrance. You want to play a movie, let us know: joe [at] squat [dot] net