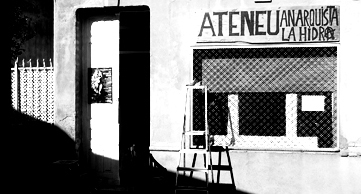 Thursday 13 December 2018, Benefit for Ateneu Anarquista de Rubi, Volkseten Vegazulu, 7pm.
The antiauthority kitchen group Ajo Negro is cooking in Joe's Garage. The benefit will go to the Ateneu anarquista de Rubí, Catalonia, to support them in the renovations from the social centre. Ateneu Anarquista la Hidra https://ateneuanarquistalahidra.wordpress.com/
Volkseten Vegazulu is a people's kitchen, every monday and thursday, all year long. We are remaining closed if no one is volunteering to cook. Keep an eye on this radar page to make sure we are open. Door opens at 7pm. Vegan food for 4€ or donation. All benefits go for social & political struggles. No reservation.
Have you ever considered cooking at Joe's Garage with your friends? We're always looking for cooks. Any help is welcome in the kitchen. Experience not required. Enjoying it is a must. If you want to know which days are still available in the schedule, send an email to joe [at] squat [dot] net and book yourself the night. You can, of course, also participate by rolling up your sleeves and doing the dishes.