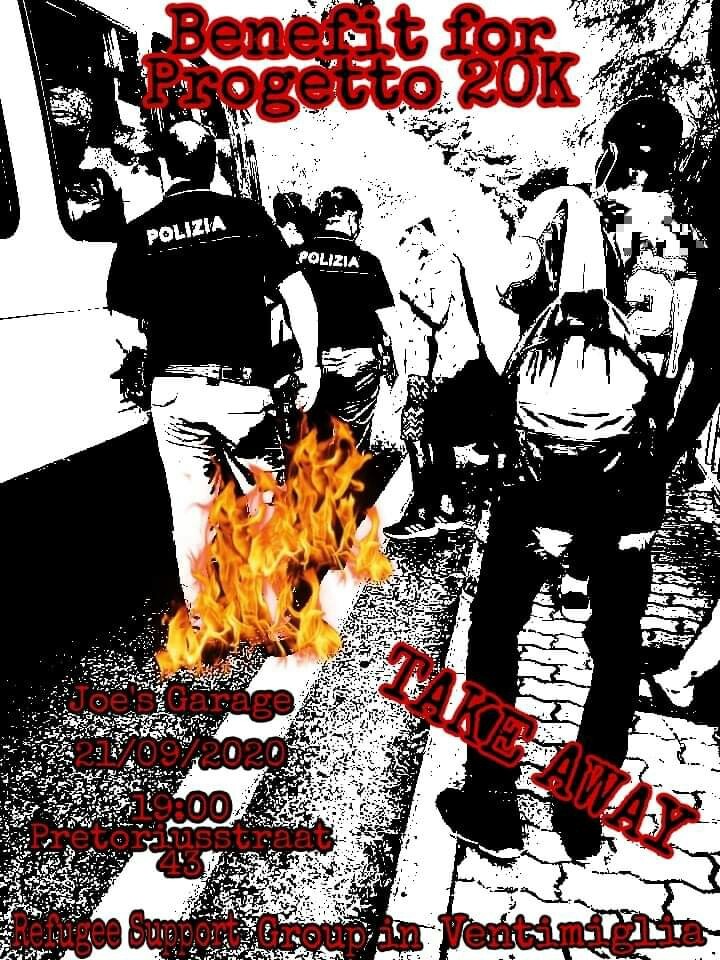 Monday September 21st 2020, Benefit for Progetto 20K – VeganVoku TakeAway. Donations and benefits for Ventimiglia from Netherlands. Ajo Negro in the kitchen. Food take away to the square, from 7pm till 9pm. No reservation.
Progetto 20K is a group of people whose aim is to bring solidarity and support to migrants who become stuck in the territory of Ventimiglia due to the national and European migration policies. The main objective of the group is to support the freedom of movement for all people and to be active so that rights are obtained and guaranteed. The project called Progetto20k started in June 2016 monitoring the border and informing migrants about the rights they hold, services they can benefit from in the Italian territory, information about the situation at the French-Italian borders and tips about the trip they are willing to embark.
Every day at the French-Italian border hundreds of people are rejected by the French police and sent back to Italy, without allowing them to apply for international protection in the transalpine country. People stopped in France, mainly in the city of Menton, but also in the French territory, who do not have valid documents for expatriation, are taken by the French police corps to the PAF (Police Aux Frontières) office in Ponte San Luigi, at the so-called high border: here they are detained for several hours, the time to identify them and notify them of the "refus d'entrée", a document declaring the person ineligible on French territory. These documents are often falsifies, changing the dates of birth so that even unaccompanied minors who would have the right to be taken into care in the country where they are located can be "legally" refused entry.
The main place where we carry out part of our activities in the city of Ventimiglia is at the Gianchette park, where the evening meal distributions are made. We provide a generator so that people can charge their own phones and power banks, and we guarantee internet access. We also distribute information material on the border, the various European states, services dedicated to asylum seekers, etc… First aid is also provided given the large number of people who are injured and bruised on a daily basis, mainly due to the long journey on foot across the Balkan route. Moreover, through mobile info-point activities, we directly inform people at the border and down in the city so that they can have all the necessary information about their rights, the journey they intend to make and the safest, most dignified, protected and effective way to do so; we directly support the people we meet every day through the collection and distribution of clothing, blankets, basic necessities and hygiene kits.
The aim of these activities is to provide people in transit with the tools they need to be able to continue their journey autonomously, creating paths of solidarity that allow them to build common practices and imaginations, beyond any border.
Ajo Negro is an anti-authoritarian collective that cooks to support events and projects of social transformation. It is run by volunteers based on a libertarian perspective. Encouraging human and non-human freedom. We are an active kitchen that criticise capitalism and welfarism. We choose vegan as a nourish option and as a political decision. We help each other in a horizontal way, considering that the collective effort is more fruitful that the individual one. […Lees verder]