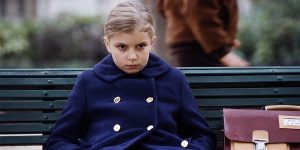 Sunday April 12th 2019, Can Dialectics Break Bricks Cinema: Blame it on Fidel! (La faute à Fidel!) directed by Julie Gavras, 2006. 99 minutes. In French with English subtitles. Doors open at 20.00, Jeffrey's intro and film start at 20.30
This film focuses on a little nine-year-old girl named Anne who has grown up in Paris in the 1960s. Her father is a lawyer and the family is doing fine. But in 1970 everything starts changing. Her uncle has gone to Spain to fight some politician called Franco (the dictator). Anne's father also starts bringing in activists from Chile into their home, where strategies are debated. As the apartment fills up with people from all over the world, the atmosphere becomes tense and serious, and little Anne finds herself being taken care of by a host of people rather than just her mother and father. She is told that Mickey Mouse is a fascist, and her father decides to share all of his money with everyone, not just spend it on the family. Anne has lost her comfortable Parisian bourgeois life, and her radical parents try to explain the reasons to her, but she understands nothing of it…. which is understandable!
That is the premise of this film, and it is both funny and insightful to see how all this unfolds. As those who frequent my cinemas realize, France is the only country that allows women to make movies on a large scale. Here we have female director Julie Gavras, the daughter of Oscar winning Greek director Costa-Gavras, who made such legendary films as Z and Missing. Since he was a politically-charged filmmaker, one has to feel that director Julie Gavras is drawing on her own experiences as a child. So many films today are just bad copies of other movies. Not this one… this is a poignant, witty, and unique gem.
Film night at Joe's Garage, cozy cinema! Free entrance. You want to play a movie, let us know: joe [at] lists [dot] squat [dot] net