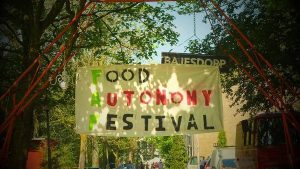 Monday May 20th 2019, Food Autonomy Festival Benefit Night, Volkseten Vegazulu, 7pm.
ASEED is hosting a benefit night in order to inform about and raise donations for the third edition of our Food Autonomy Festival (https://aseed.net/en/faf-3/). The festival will take place from the 31st of May til the 2nd of June at the Boterbloem farm in Amsterdam. The vegan meal is donation-based. Join at 19:00 and get some information about the festival and our Fossil Free Agriculture Campaign in general.
https://aseed.net/
https://radar.squat.net/en/amsterdam/aseed
Joe's Garage is always looking for cooks. Any help is welcome in the kitchen. Experience not required. Enjoying it is a must. If you want to know which days are still available in the schedule, send an email to joe [at] lists [dot] squat [dot] net net and book yourself the night. You can, of course, also participate by rolling up your sleeves and doing the dishes.