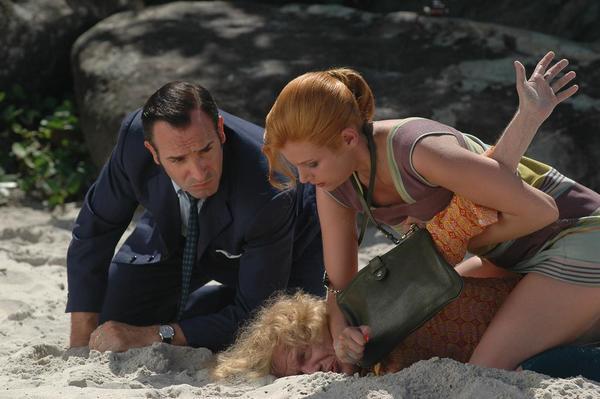 Sunday October 20th 2019, Can Dialectics Break Bricks Cinema: OSS 117- LOST IN RIO (2009) (OSS 117: Rio Ne Répond Plus). Directed by Michel Hazanavicius. 101 minutes. In French with English subtitles. This will be a high-definition screening. Doors open at 20:00, Film starts at 20:30
In this spoof of secret agent films, the year is 1967, and Hubert Bonisseur de la Bath (also known as Secret Agent OSS 117, the pride of French intelligence), is sent on a mission to Rio de Janeiro to hunt down a former high-ranking Nazi who went into exile in South America after the second World War. His investigation takes him on a journey across Brazil, from Rio's sunny beaches, through luxuriant Amazonian forests, down into the depths of secret grottoes and up to the top of the gigantic Christ statue that overlooks Rio (in a scene that is clearly a homage to Hitchcock). Along the way he is accompanied by a dazzlingly beautiful Mossad agent who is also looking for the same Nazi.
Set to the strains of a sultry bossa nova, the film perfectly captures the style and tone of 60's spy films, with great vintage movie colors and split screen effects. The screenplay and direction is by the unique Michel Hazanavicius (The Artist) and the film stars Jean Dujardin (a wonderful Sean Connery look-a-like) who gives a razor-sharp performance. This will be a rare screening of this modern cult film, a black comedy about the so-called 'Intelligence' world.
Film night at Joe's Garage, cozy cinema! Free entrance. You want to play a movie, let us know: joe [at] lists [dot] squat [dot] net