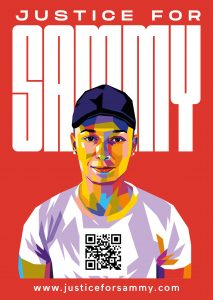 Monday 14th June 2021, Volkseten Vegazulu: Justice for Sammy B. From 7pm till 8:30pm. No reservation.
Last month state prosecutor, Anne Marie Ruijs, decided that the cops who murdered Sammy B. will face no consequences. Ruijs ruled that they will not face a legal procedure at all. She has always ruled in favour of the police. Cops get away with murder. Despite all the lies of Amsterdam police as well as the overwhelming evidence showing that Sammy was murdered (including a video clearly showing what actually happened). Sammy was a person of colour that was having a mental breakdown. He was calling for a doctor and despite the fact that psychological help and his mother were at the scene, the police refused him this help.
At the Joe's Garage voku on Monday 14th June, we will raise money for Sammy's family, who will receive no financial compensation due to Ruijs' verdict in favour of the police.
Find out more on the website of Controle Alt Delete: https://controlealtdelete.nl/blog/nabestaanden-sammy-strijden-door
Reform is not Possible – Abolish the Police!
---
About the Volkseten Vegazulu
Volkseten Vegazulu is back in action since the beginning of May 2021, on the Steve Bikoplein. Every monday, from 19:00 till 20:30, food will be served in plates at the door, at Joe's Garage. Join us and the Transvaalbuurt on the square to share a proper meal, meet the community or even play some basketball, chess. Your donations are welcome. No reservation, vegan food, donations welcome. If you want food to take away home, bring your own containers. The square is big enough to keep distance from eachothers.
Also every monday, from 19:00, free fruit and veggie stall in front of Joe's Garage or on the square.
Volkseten Vegazulu is a people's kitchens existing since the very beginning of Joe's Garage, June 2005. All benefits go to social & political struggles. Joe's Garage is a space run by volunteers. Without a collective effort, without your active participation, we're remaining closed. Get in touch in you feel like giving a hand. We're always looking for cooks. Any help is welcome in the kitchen. Experience not required. If you want to know which days are still available, mail us.